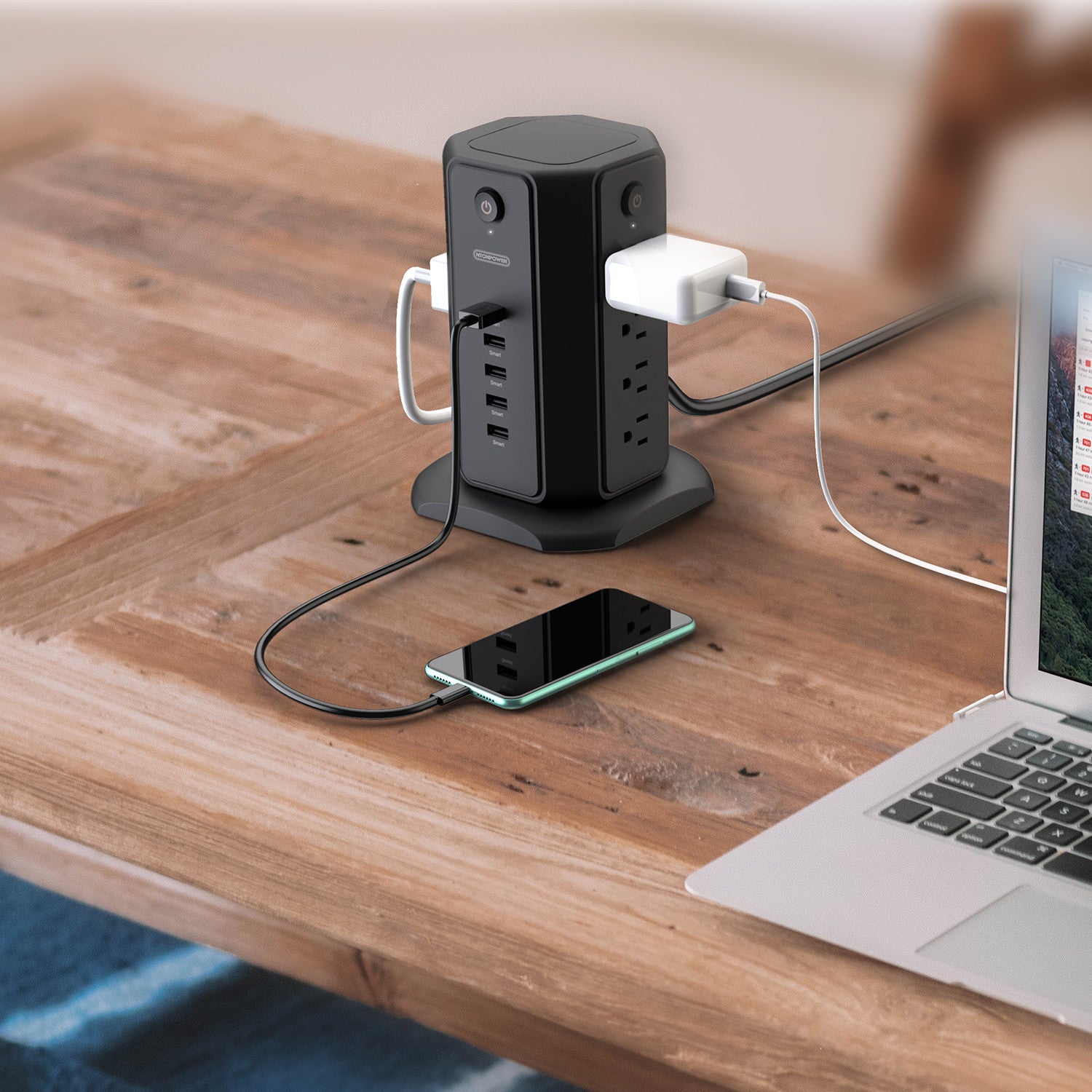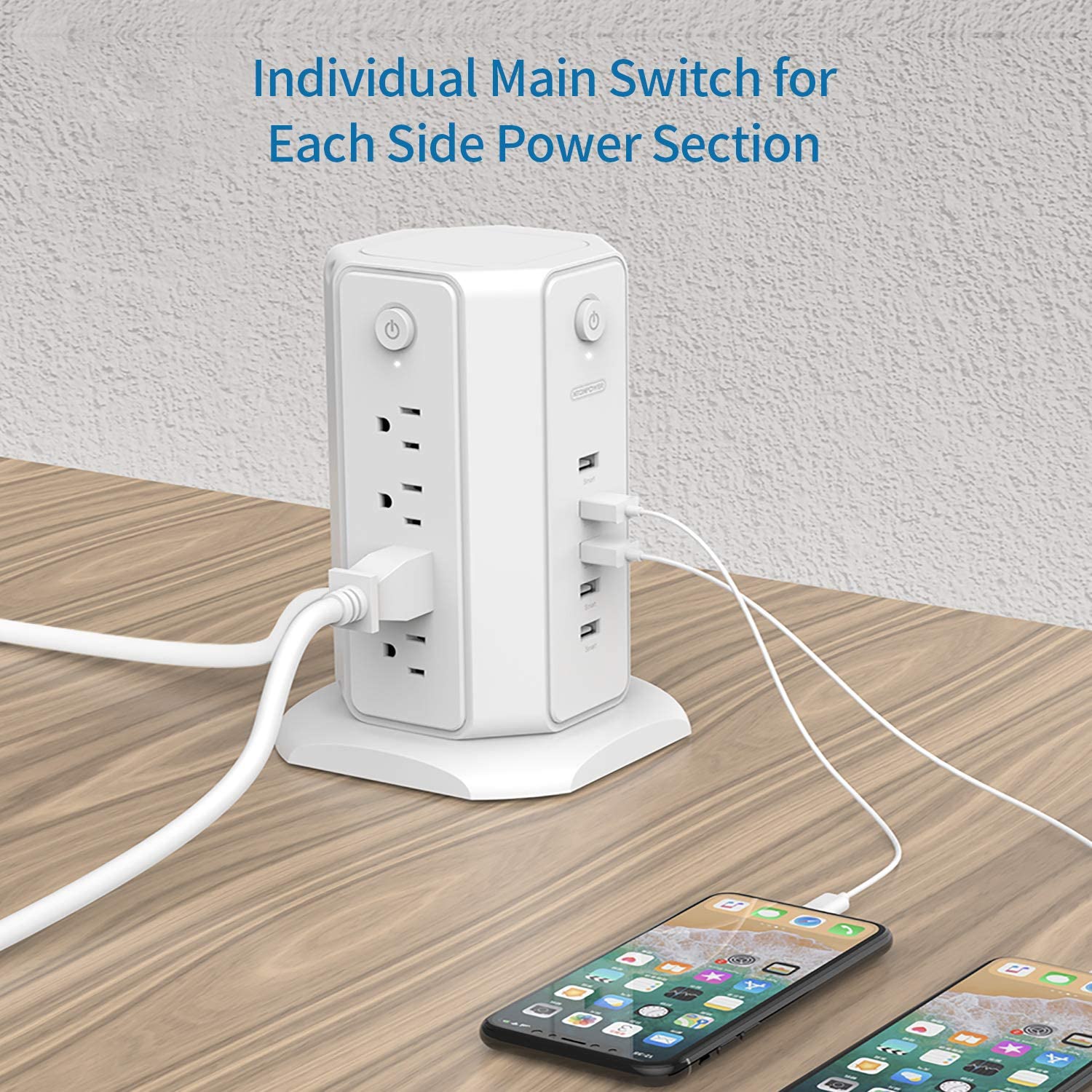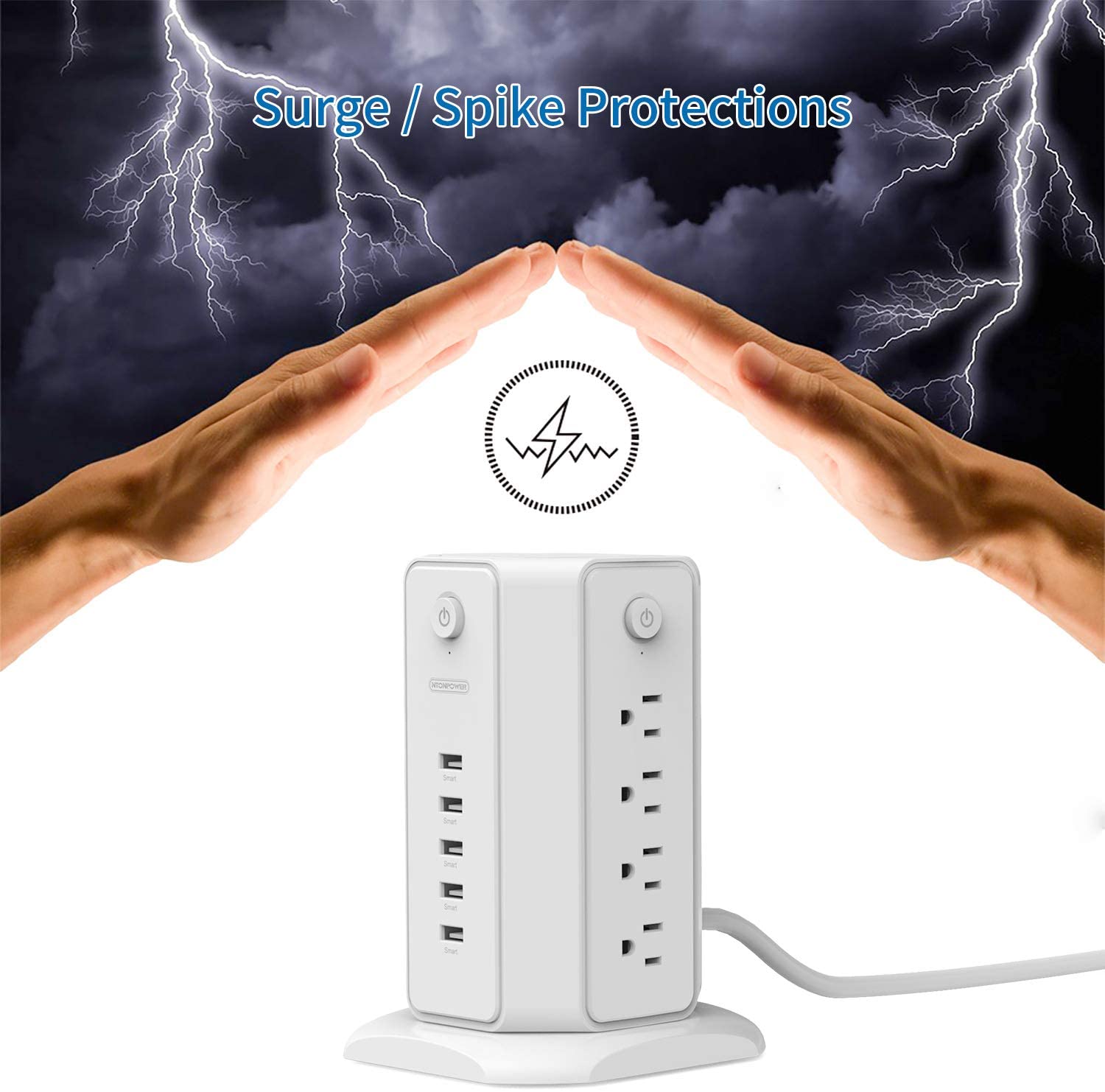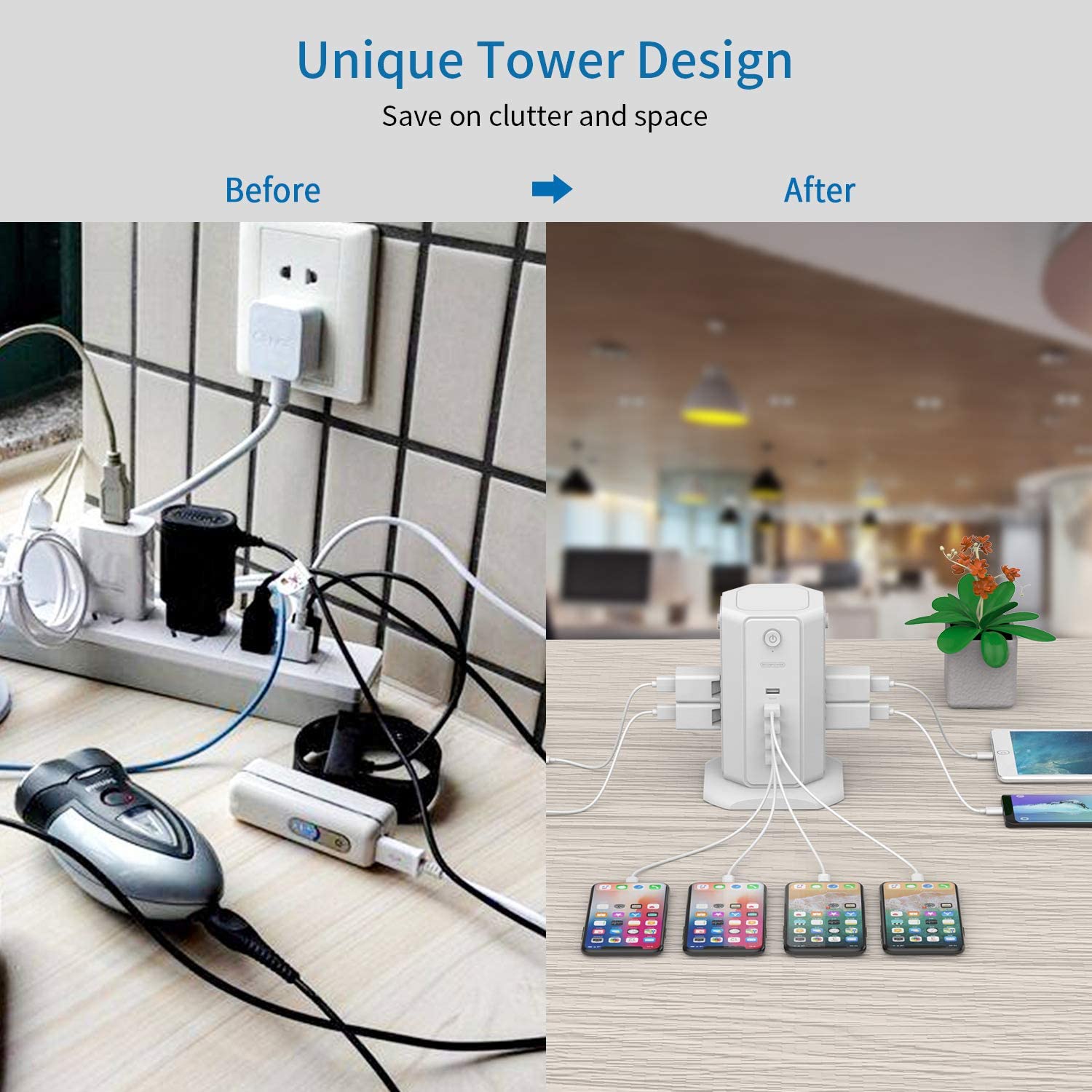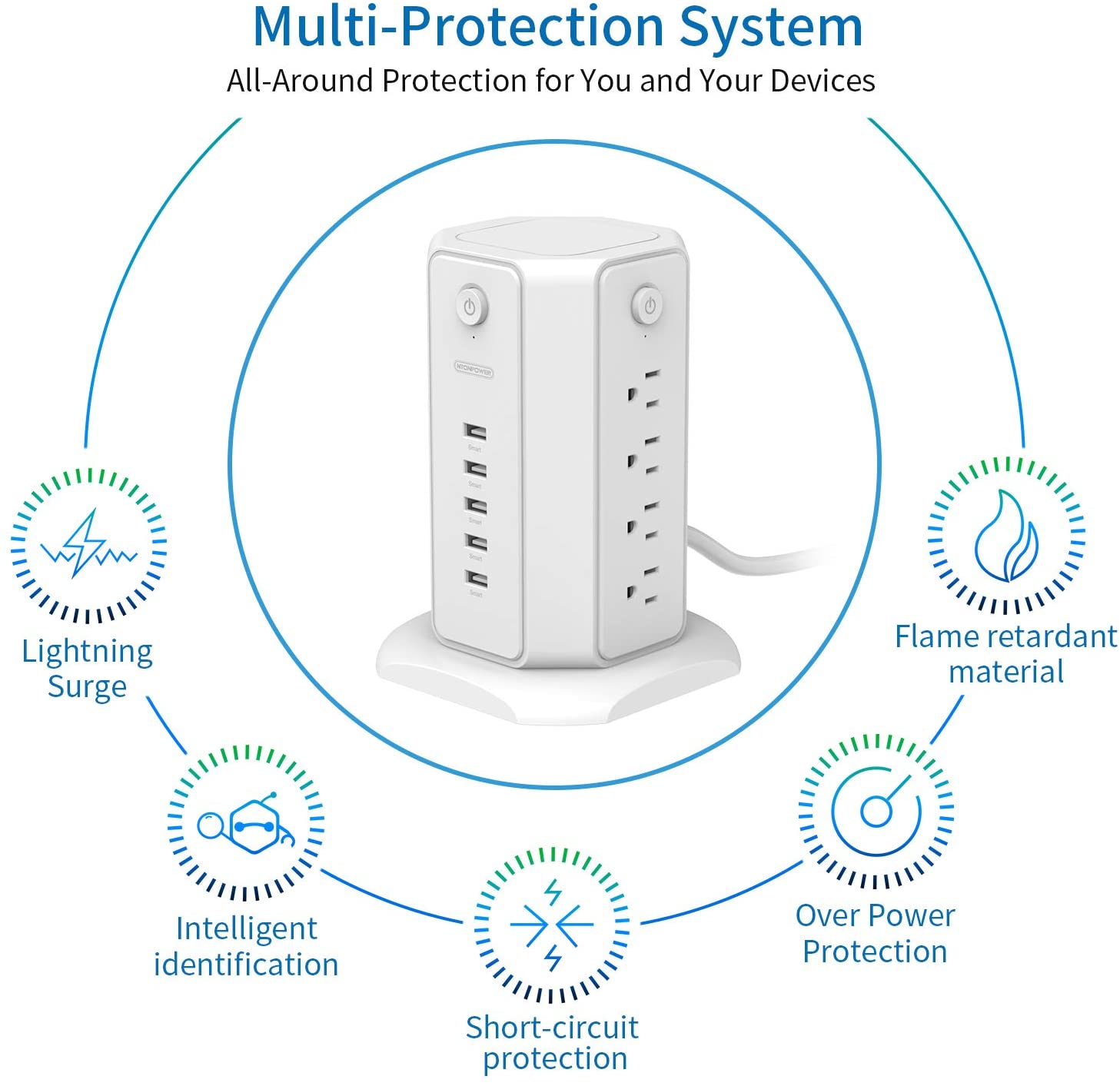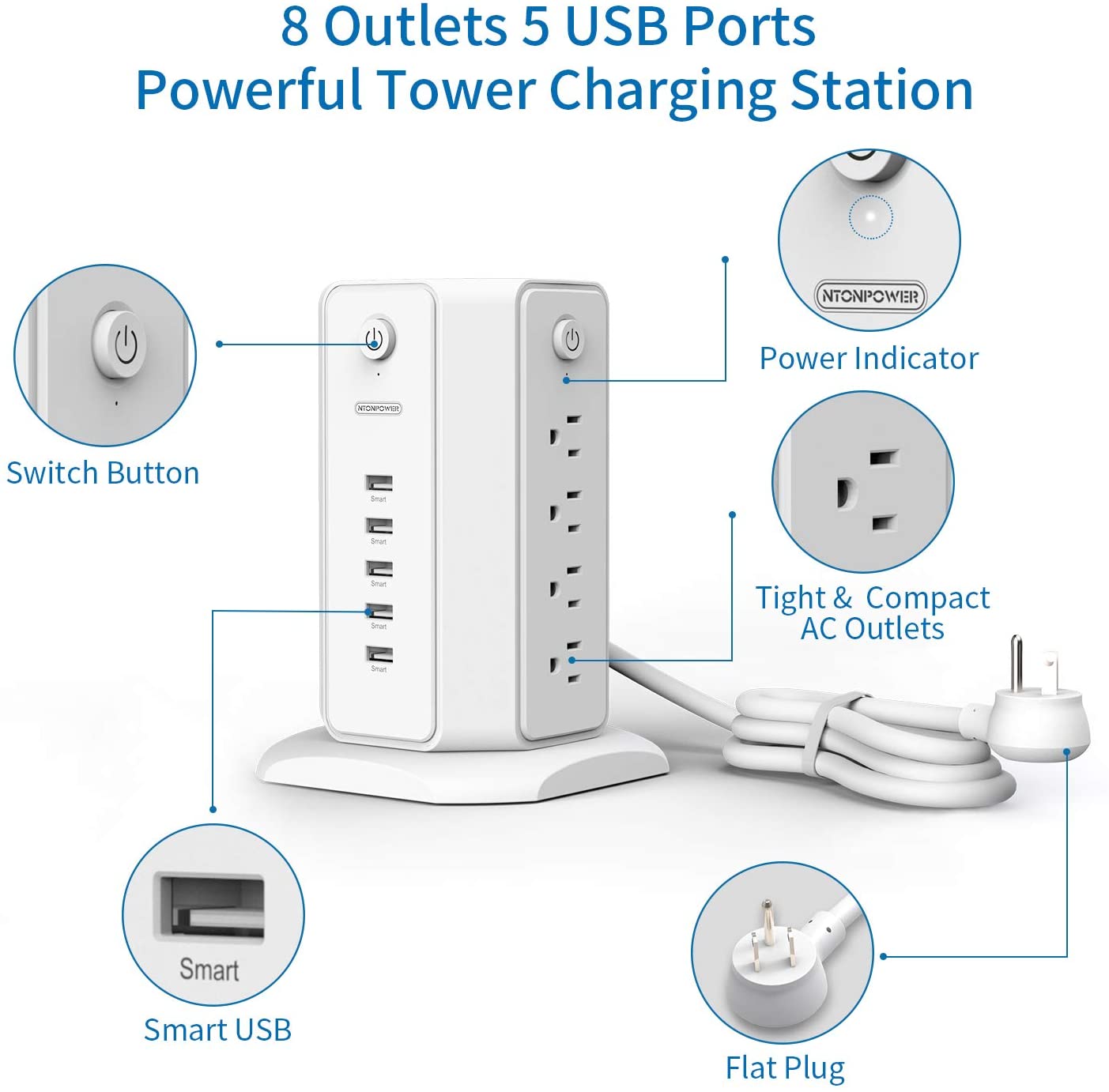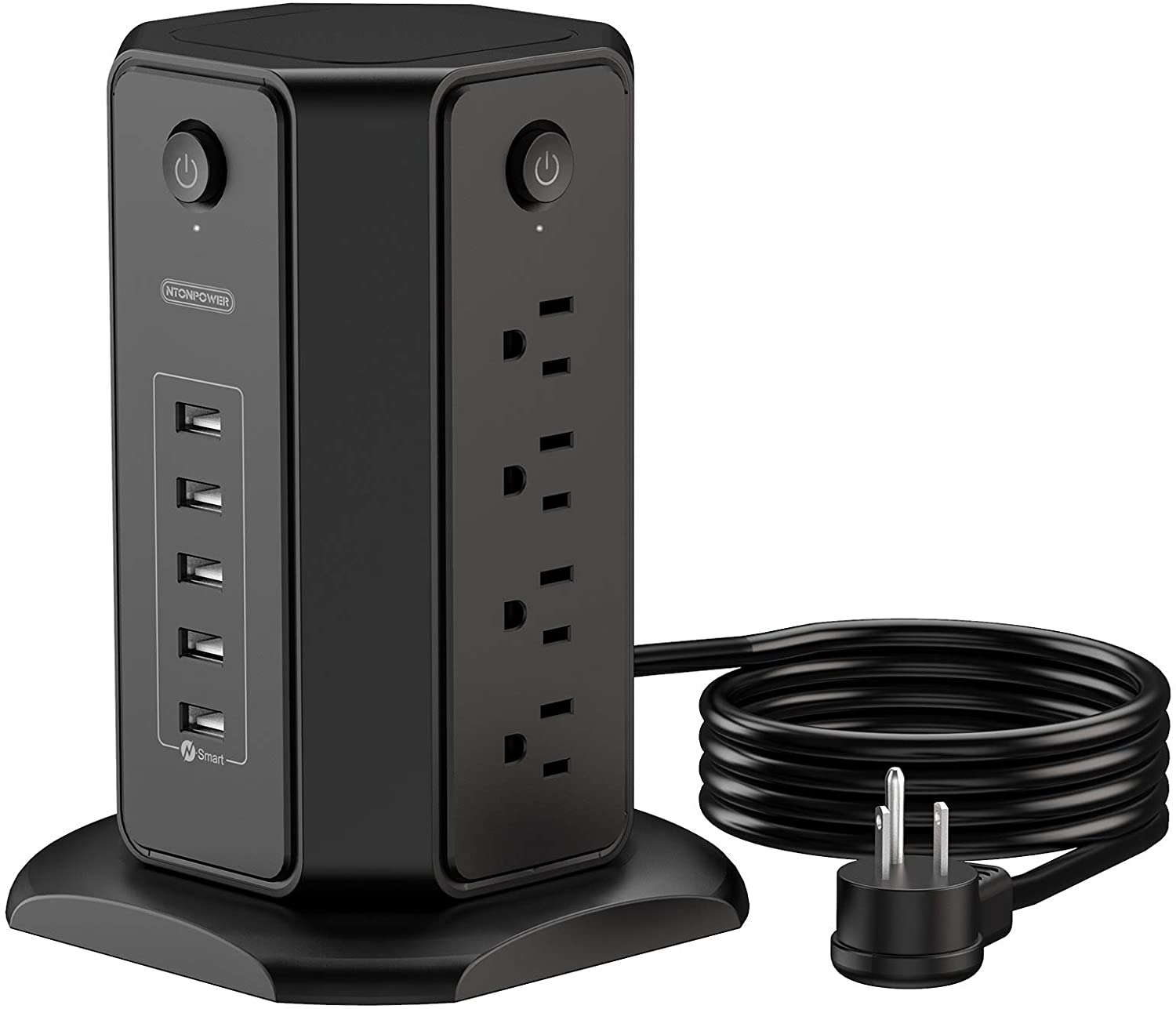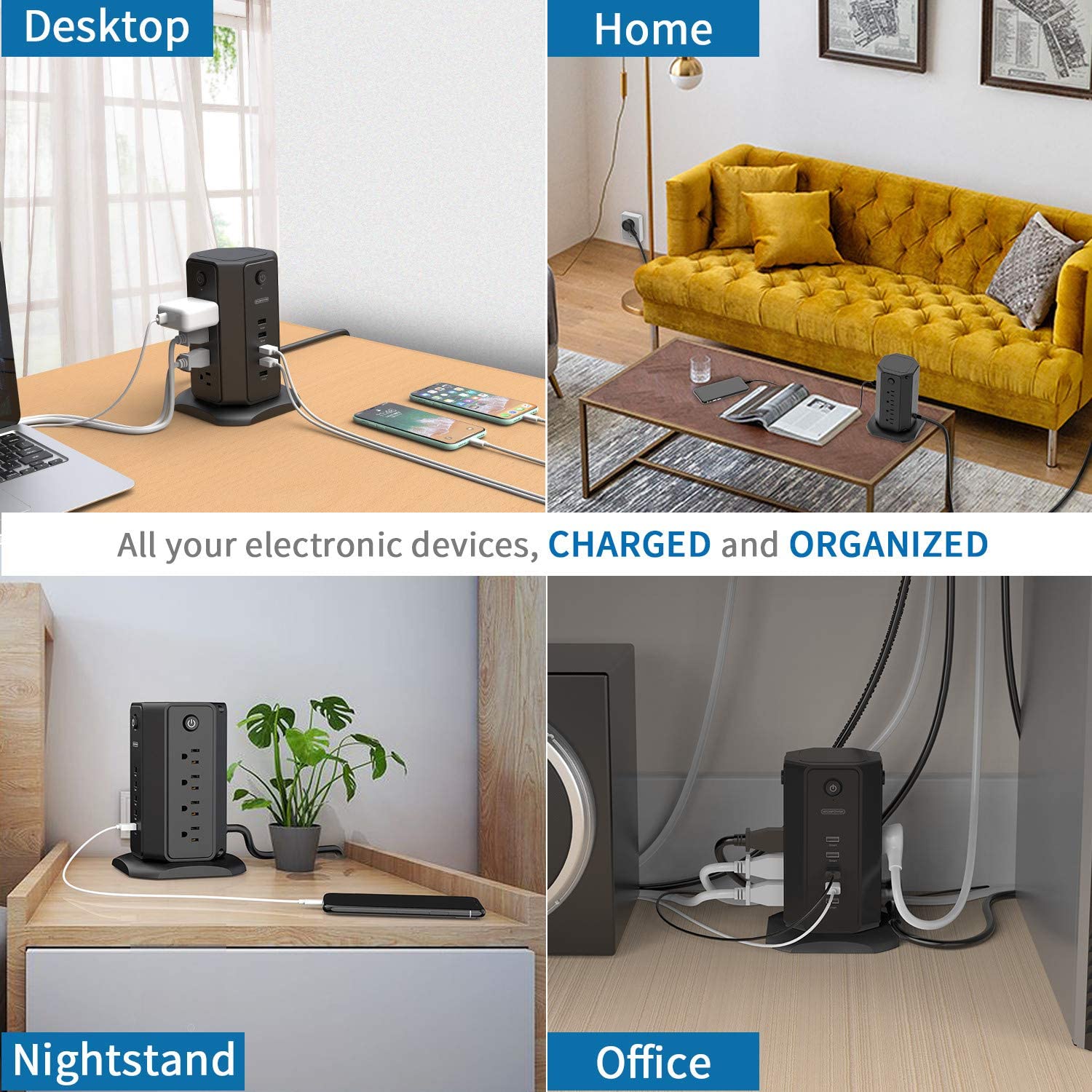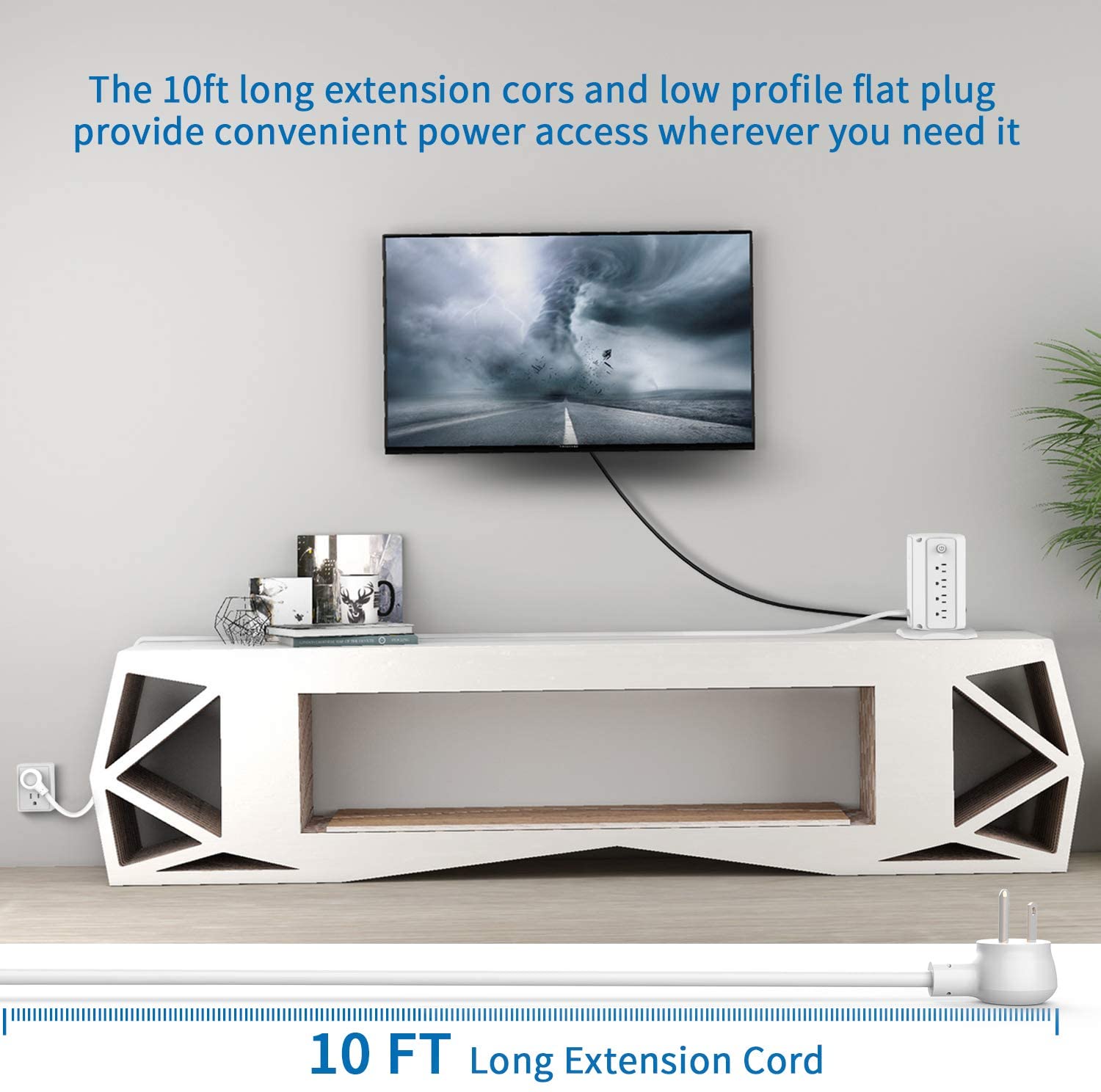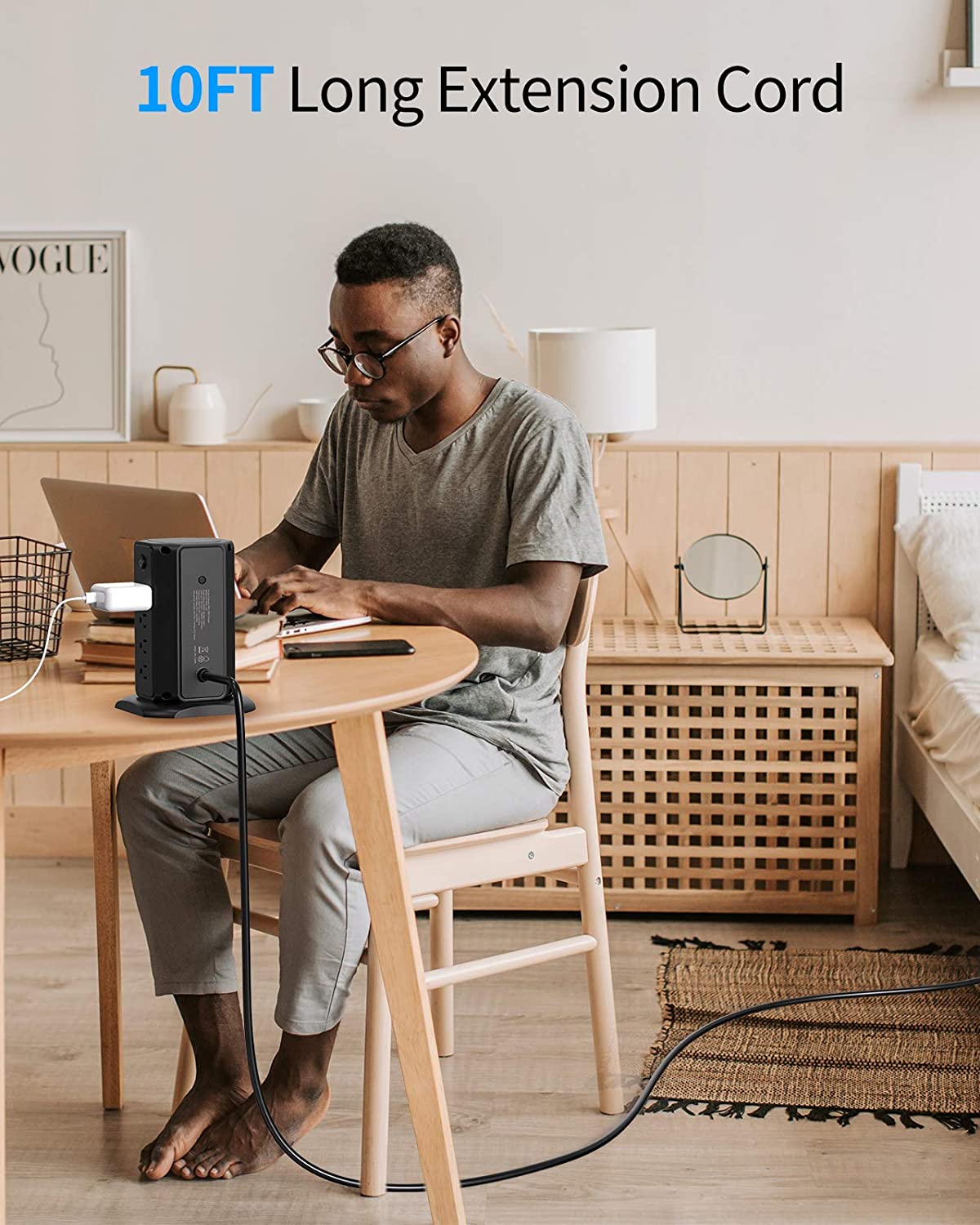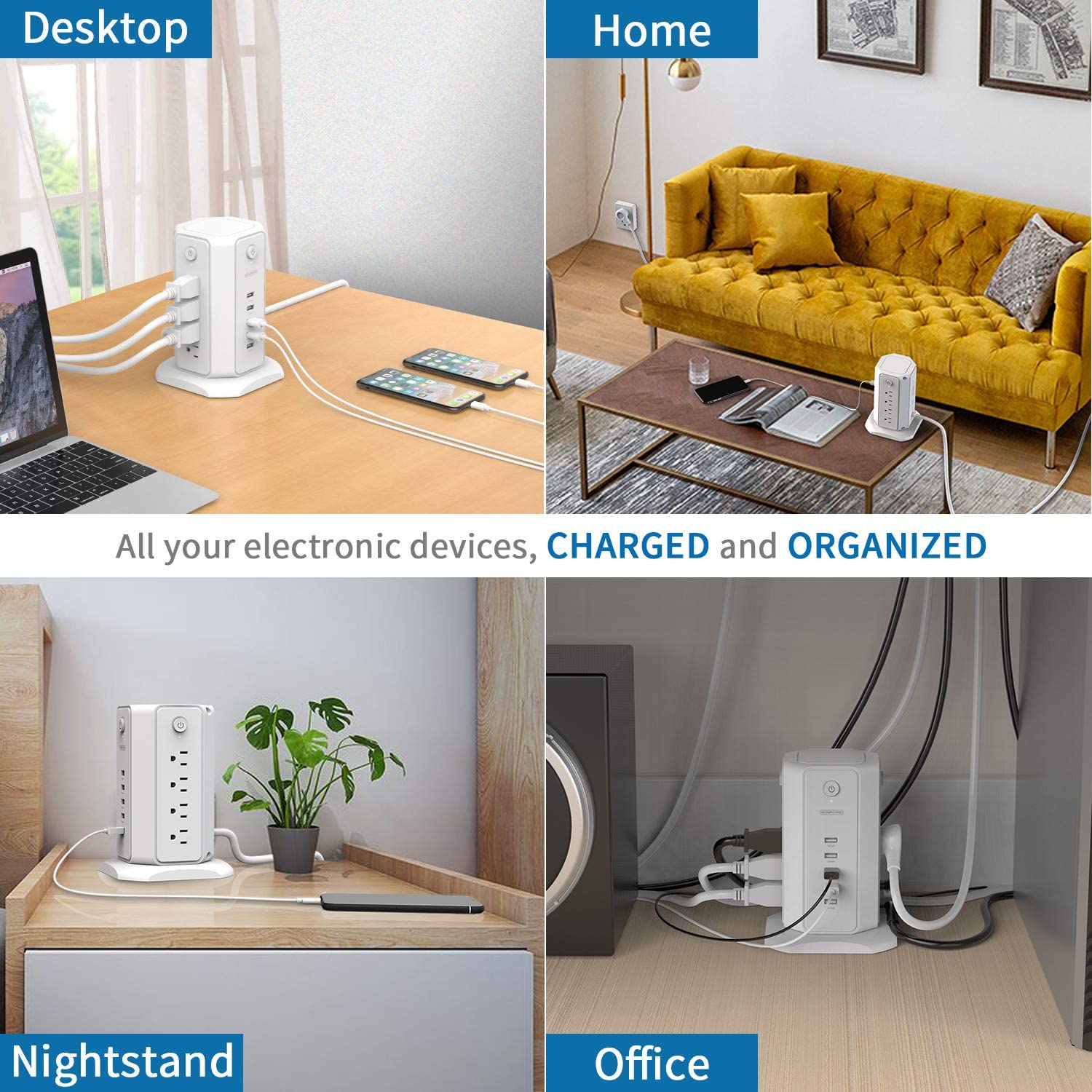 Ntonpower Surge Protection Tower 8 Outlets 5 USB Power Strip Tower
NTONPOWER Power Strip Tower Surge Protector Flat Plug for Home and Office


A vertical tower design houses 8 AC outlets and 5 high-powered USB ports.

Power strip tower with smart USB(total 8 A) especially suitable for home and office, small footprint.

You only need to have this tower charging station to meet the simultaneous charging needs of your various equipments and appliances.

Thunder protection and overload protection to ensure the safety of your equipment.

 Features:

8 AC Outlets and 5 Smart USB Ports

1625W/125V, 3250W/250V Super High Power

45 Degree Angled Flat Plug Design

Extra Long 

10FT Heavy-Duty Extension Copper Power Cord

Premium Surge Protection (1080 Joules)

Integrated Circuit Breaker

Convenient Individual Switches

1382℉ Fire-resistant Material

Smart Charging

Our top-notch USB smart charging technology can reach faster-charging efficiency and more energy savings.

Surge Protection

Overload Protection

Lightning Protection

Short-Circuit Protection

OverCurrent Protection

Separate Power Switch

Three buttons on each layer control the power source separately, energy-efficient and convenient.

Overload Protected Switch

The reliable overload switch will trip off automatically to protect your devices and your home when the power overload.

Fire-prevention materials, Flame retardance at 1382(℉)/750(℃).

10 ft Heavy Duty Cord

Unlike other wires, our extension cords are made of thick, pure copper wire with stable electrical conductivity and good heat dissipation.No need to worry about the occurrence of electric heating, fire, etc.

It also includes a white velcro cable tie to use for the flexible power cord management.

Low Profile Flat Plug

Special flat plug design is the perfect solution for tight spaces like behind furniture, cabinets, nightstands or anything which is close to the wall not allowing you to use the standard outlet.

The 45 degree angled plug to keep other outlets free, is the ultimate space-saving power strip for your home, hotel, dorm room, or travel.

Surge Protection

Equipped with surge protection to prevent from damages caused by spikes, fluctuations.

It also has a soft indicator in white to indicate that your electrical devices are protected, as well as one to show that the power is on.

Non-Slip Mats & Stable Base

Soft Silicon Non-Slip mats added at the bottom to make the power strip apply to all kinds of desktop closely adhered, in case of scratching and sliding.

The Base is very stable. We use geometry to design a sturdy base that can withstand the device plugs without worrying that the plugs are too heavy for the tower to stand upright.

To organize your electronics neatly and easily

This surge protector comes with 8 AC outlets and 5 USB Ports which allows you to power up to multi electrical devices at same time.Meanwhile,the vertical tower design is ideal for cord organization, directing your cords out through three sides so they don't all tangle together.

Perfect storage solution for all of your charging needs.

Smart Current Detection

Knows & distributes exact current your smartphones/tablets are looking for.

Now you can charge your cellphone, laptop, tablet, cameras WITHOUT a variety of converters, save your space and make your desktop organized.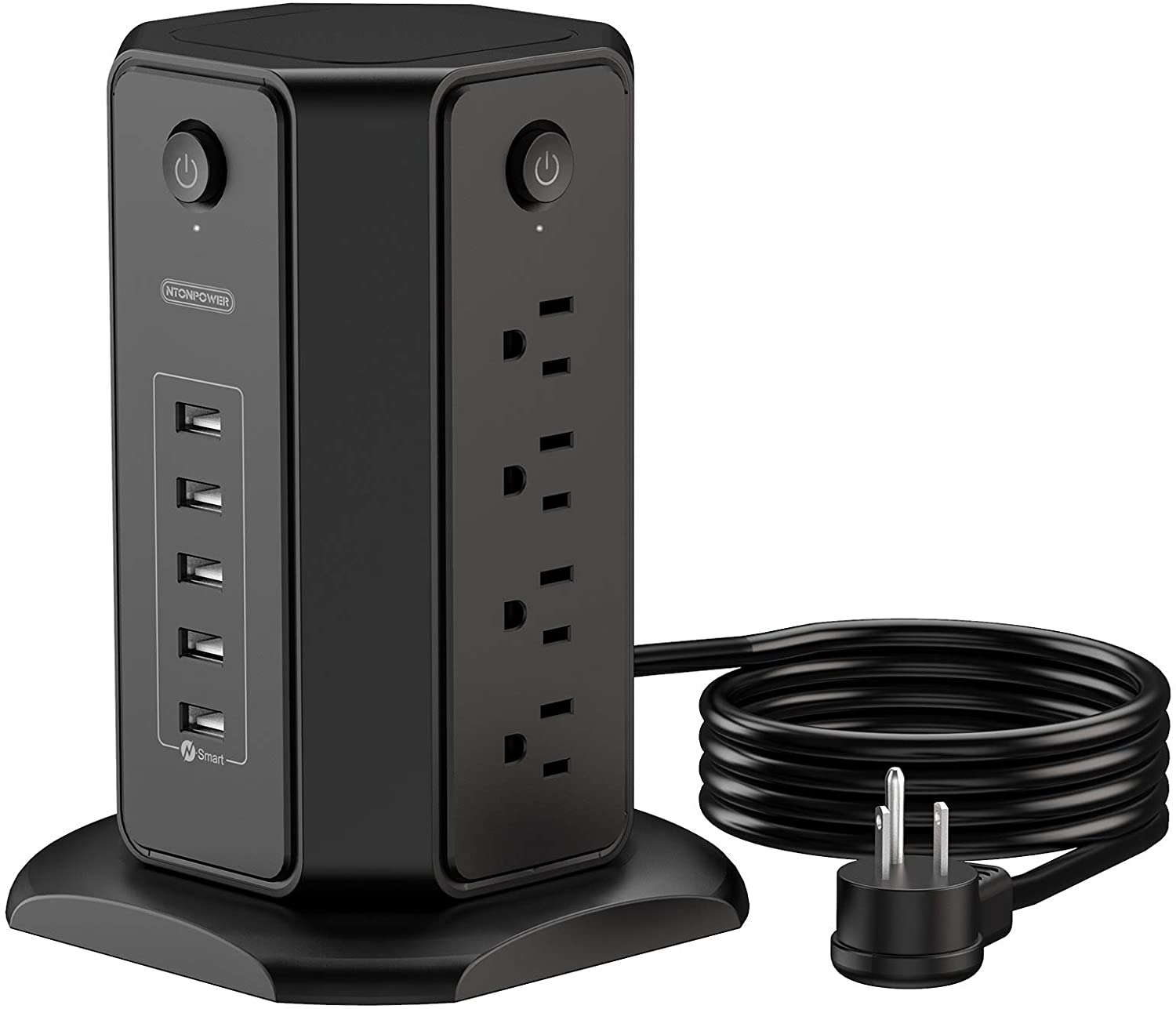 Contact Us
Do you have any question?
We will respond within 24 hours on working days from Monday to Friday.
This product has no reviews yet.