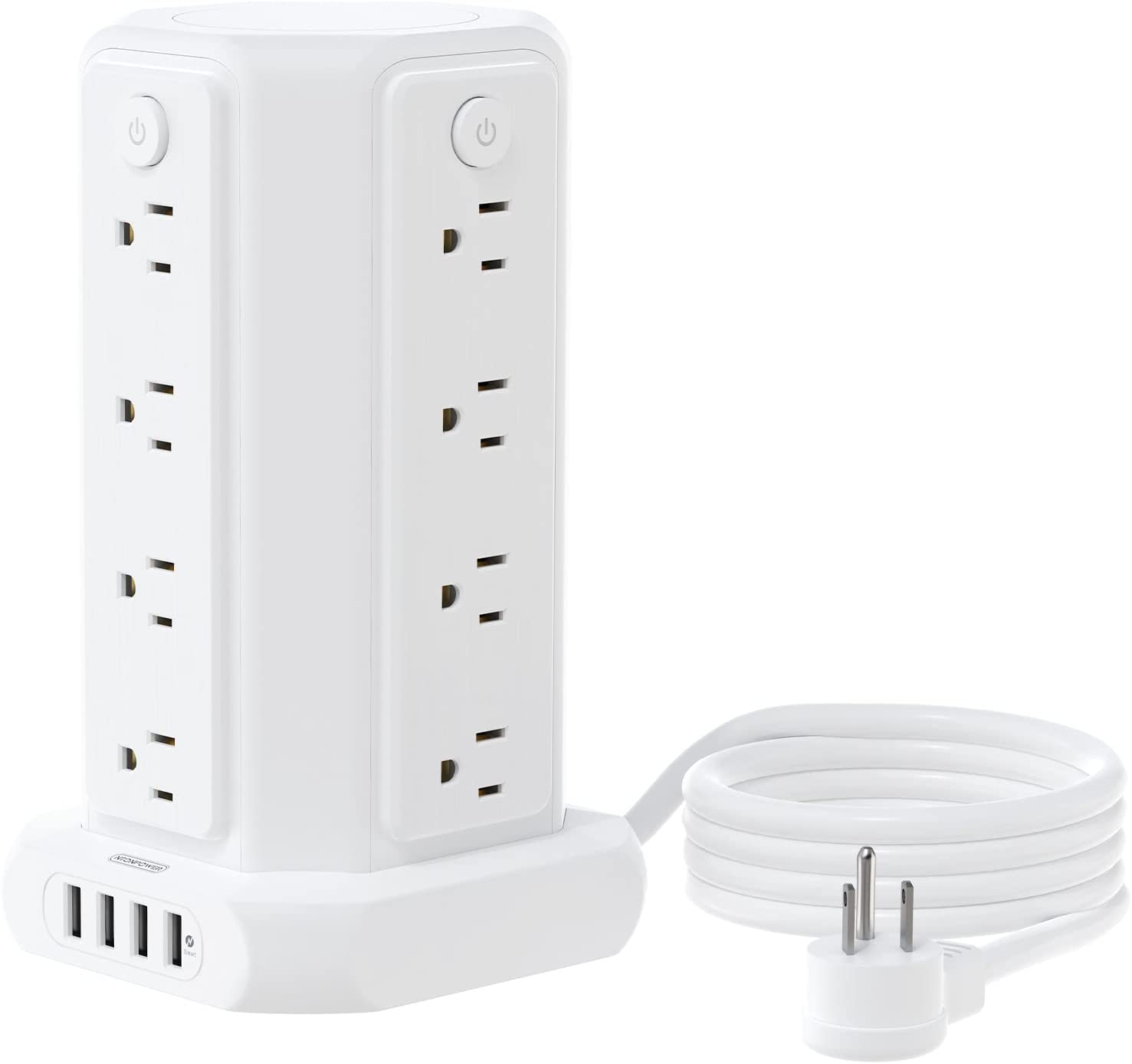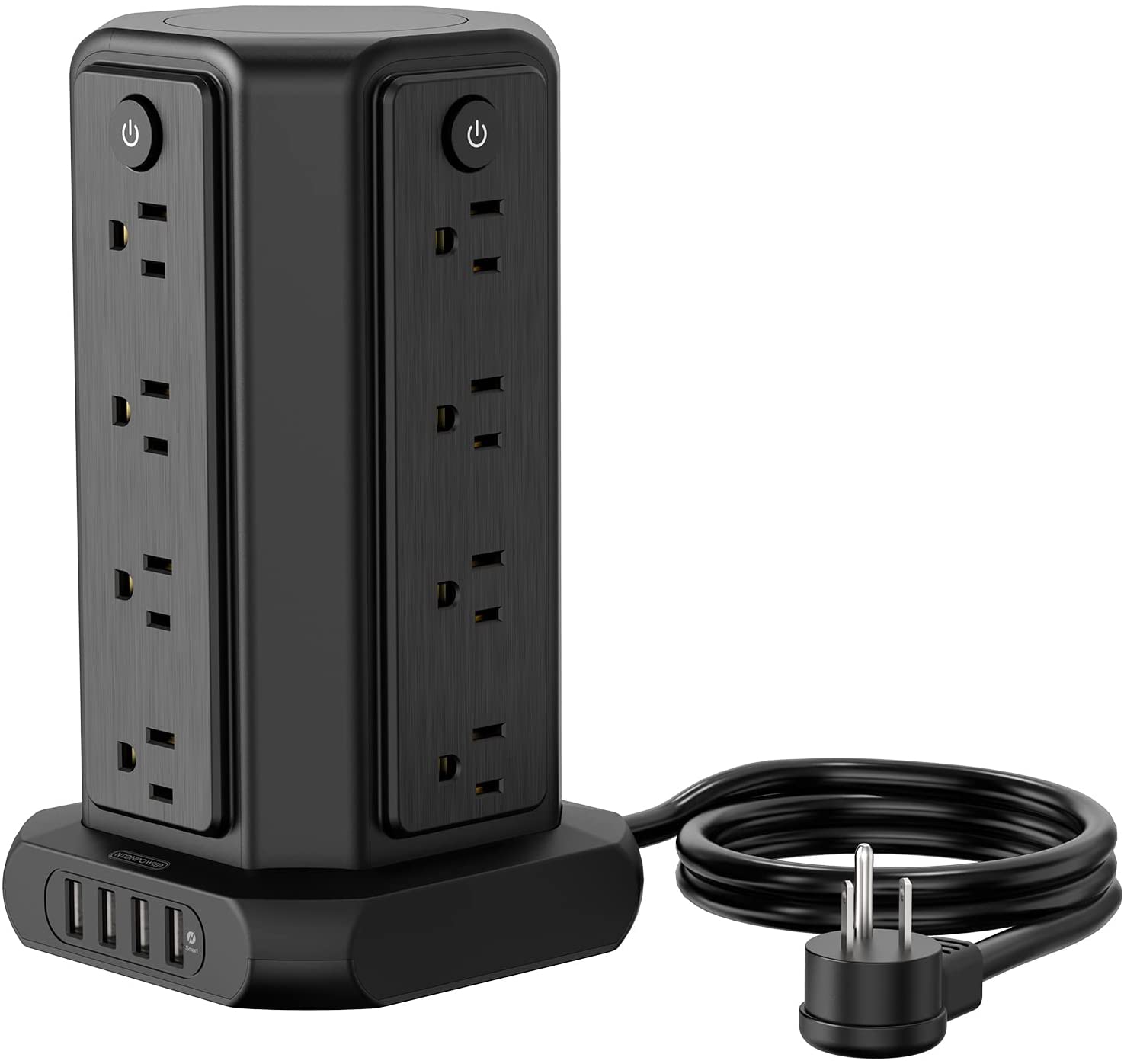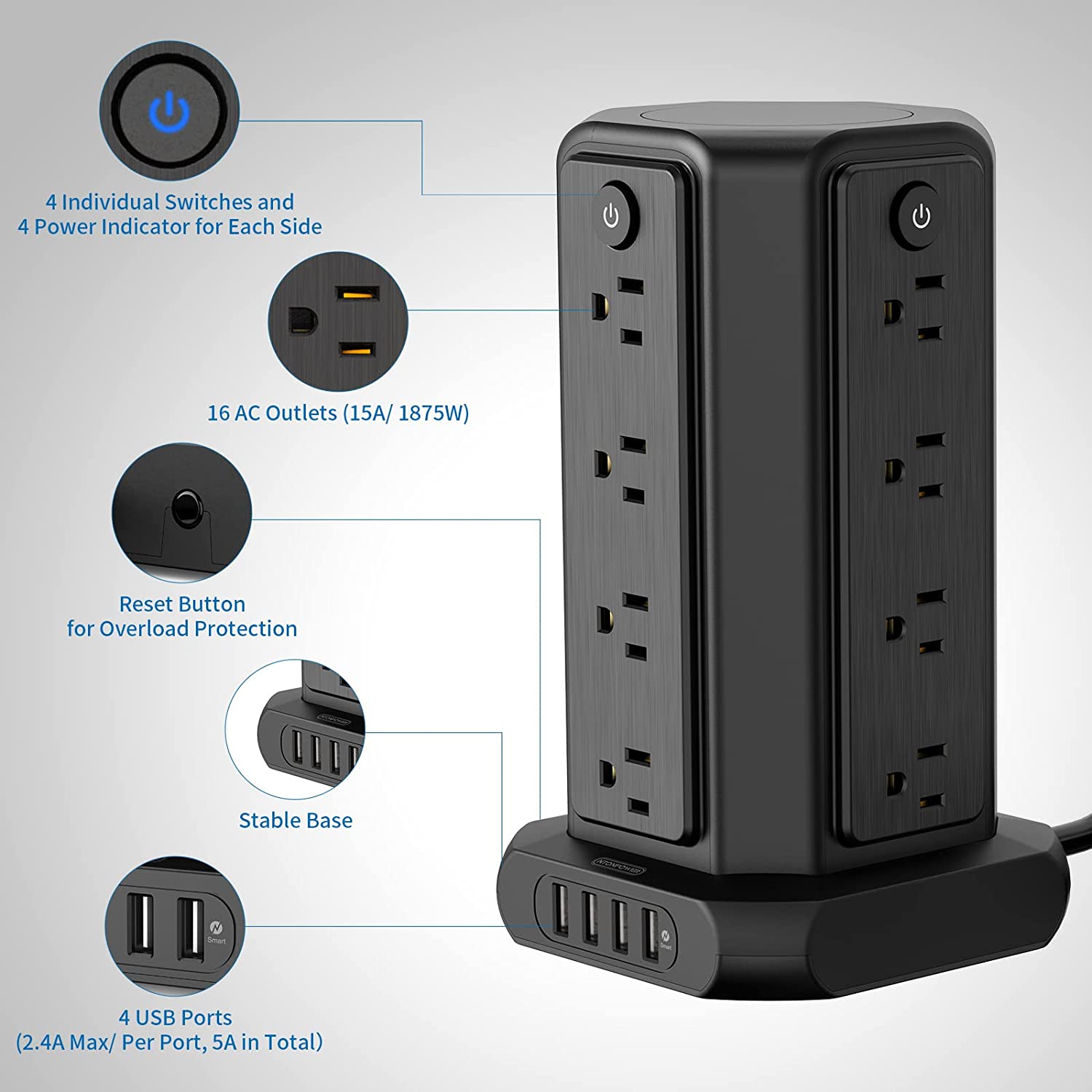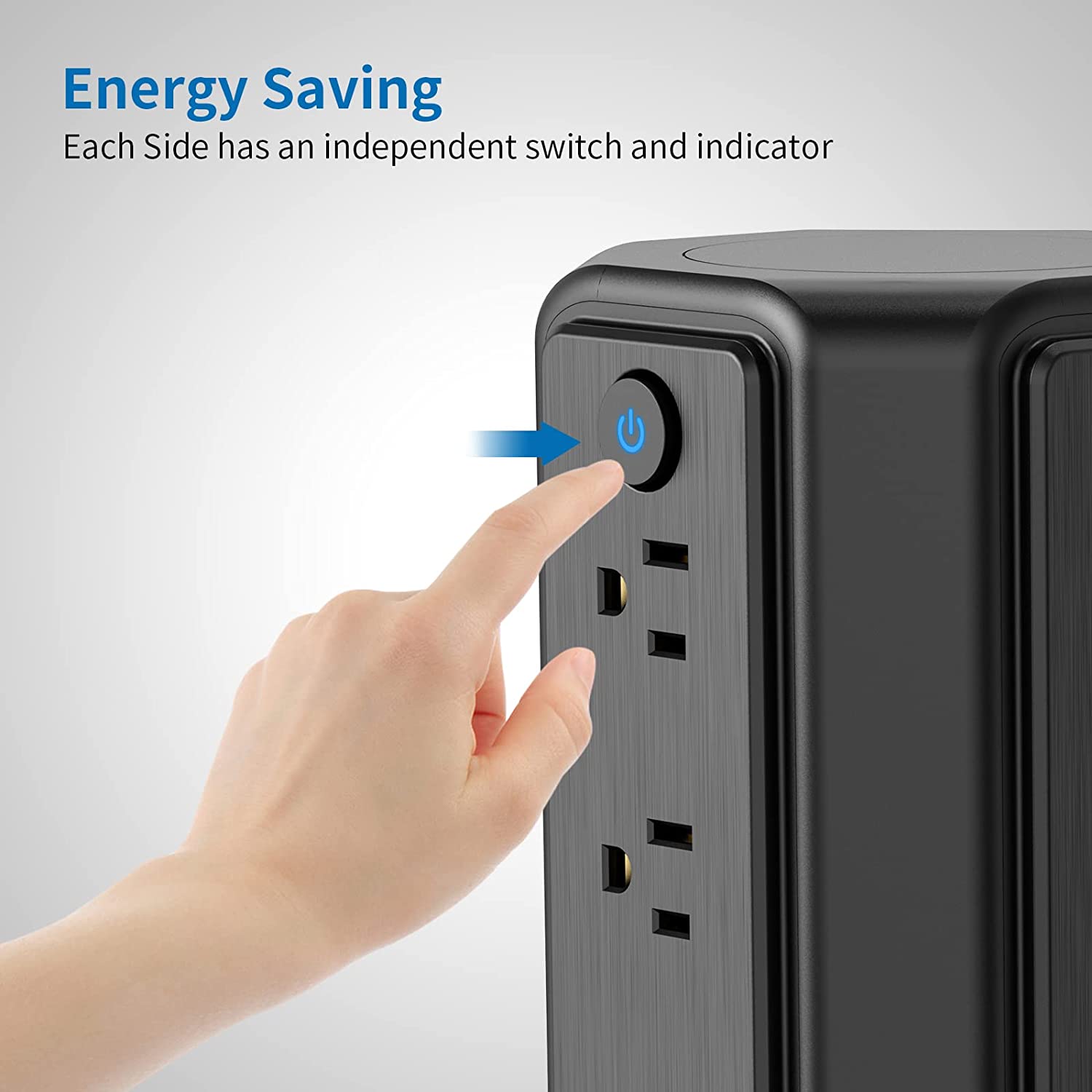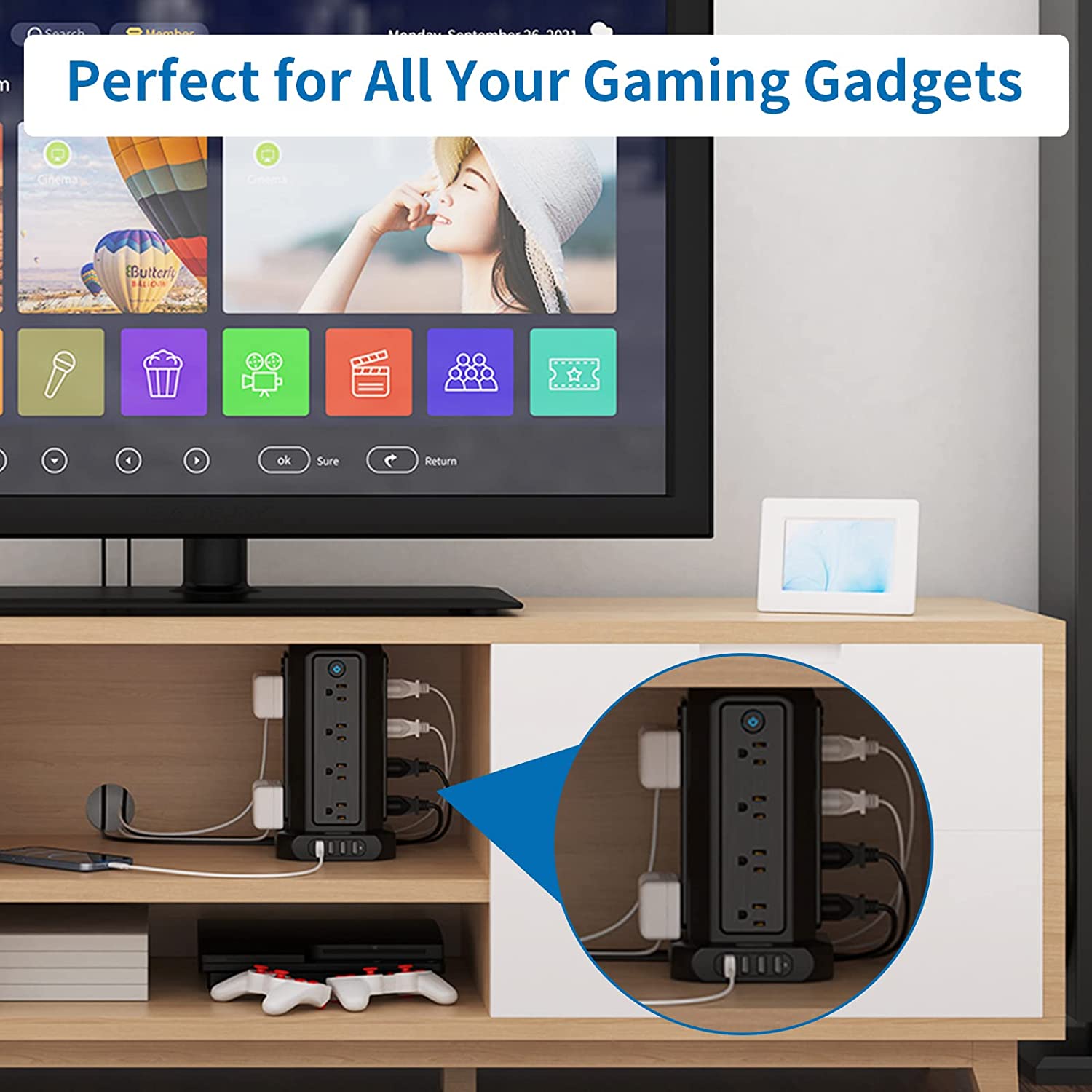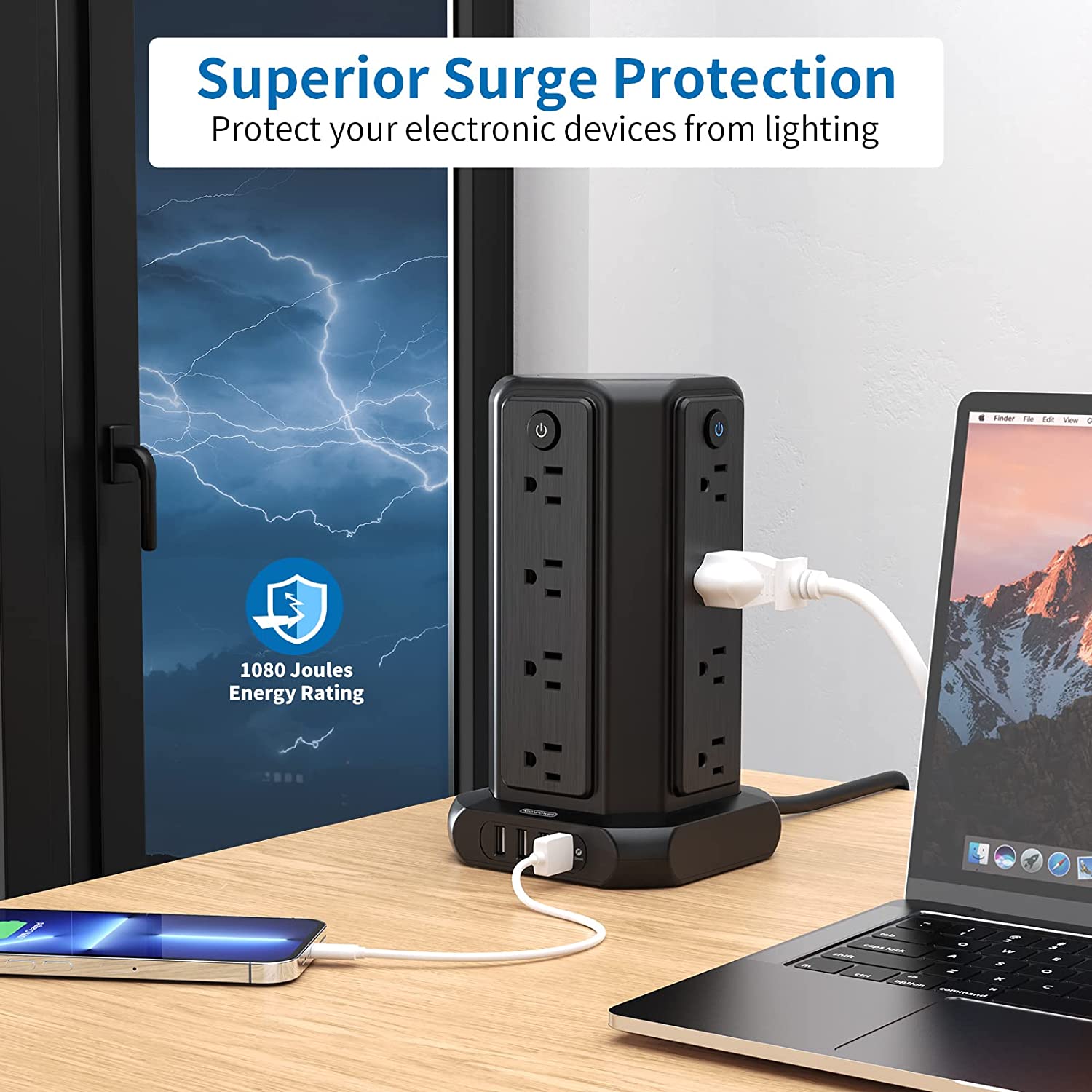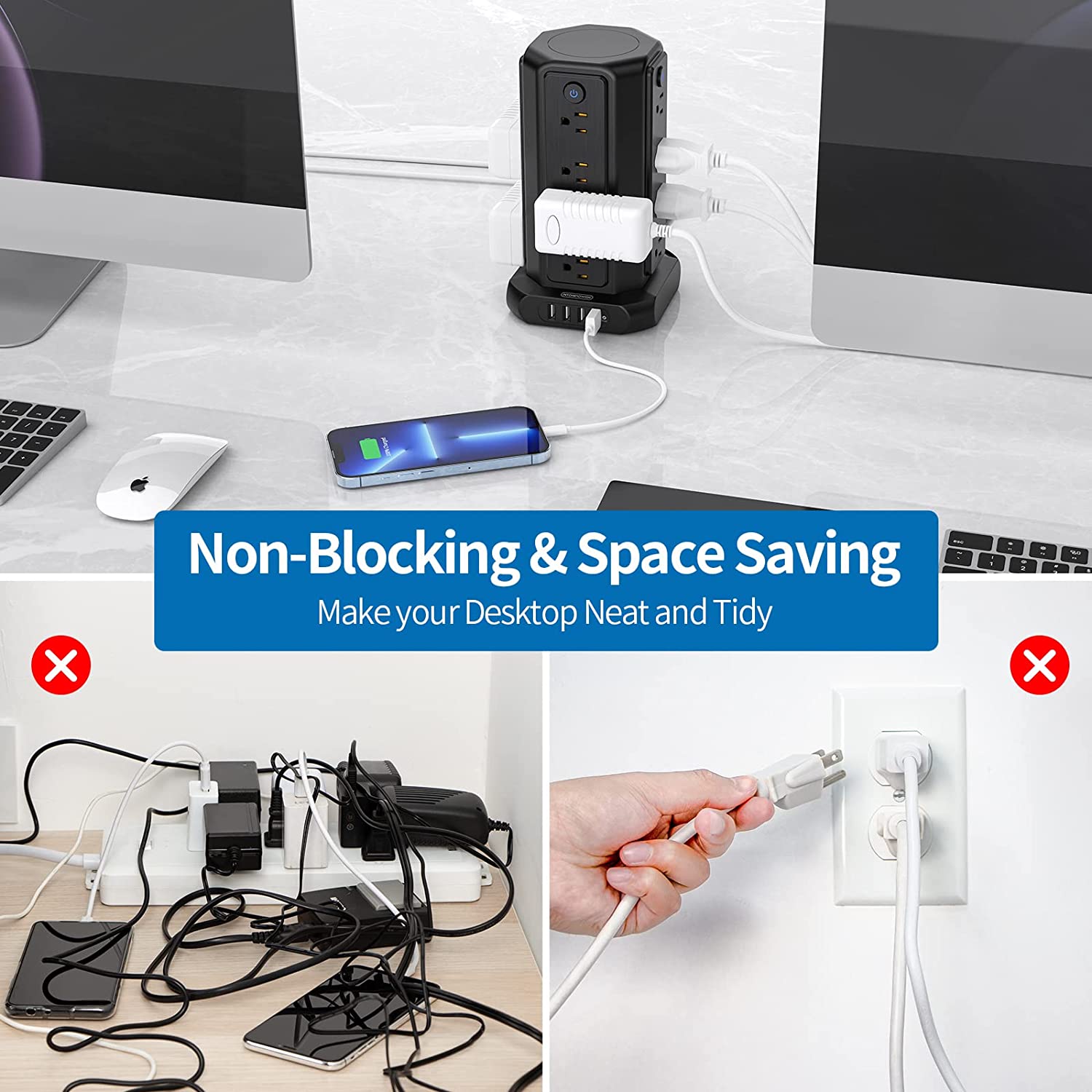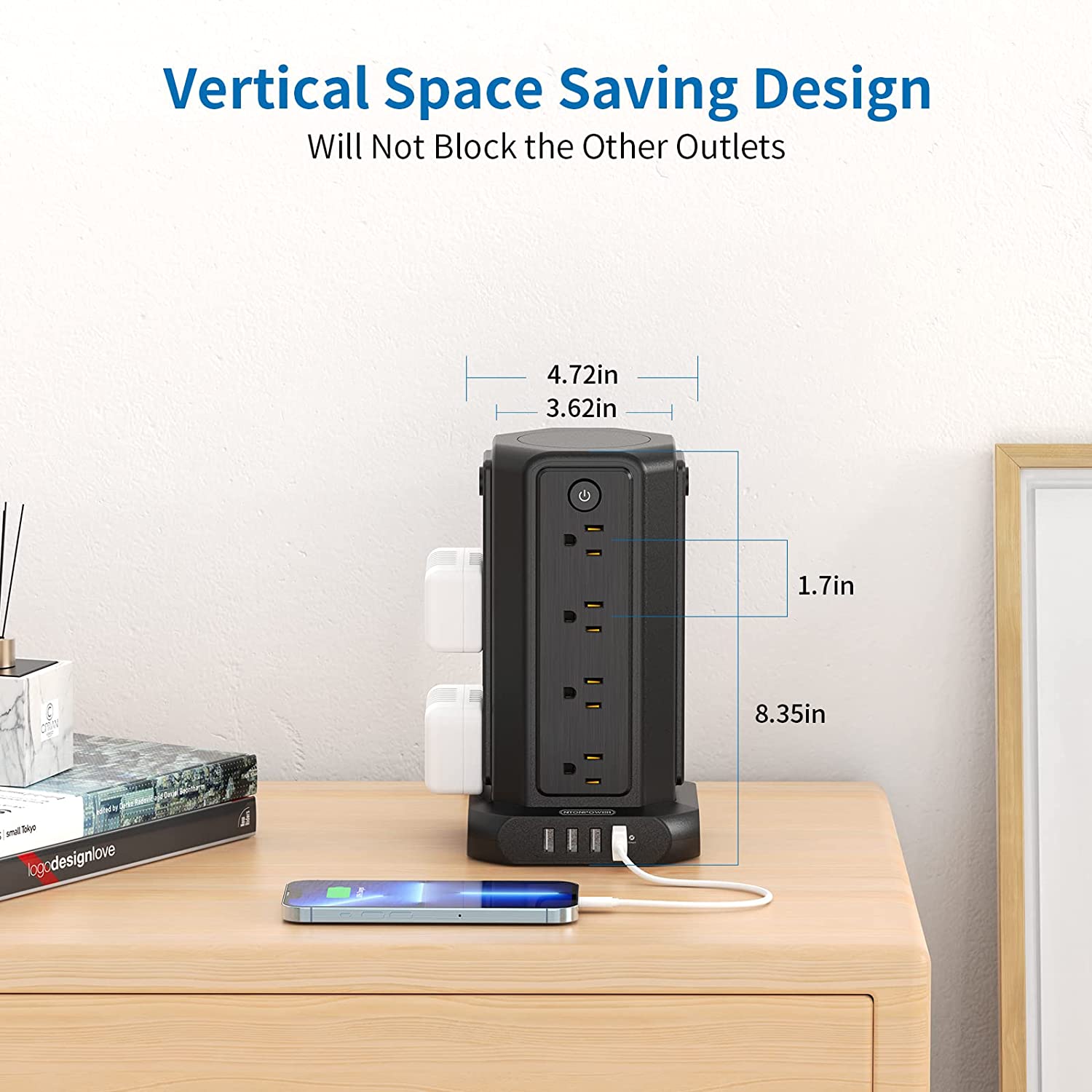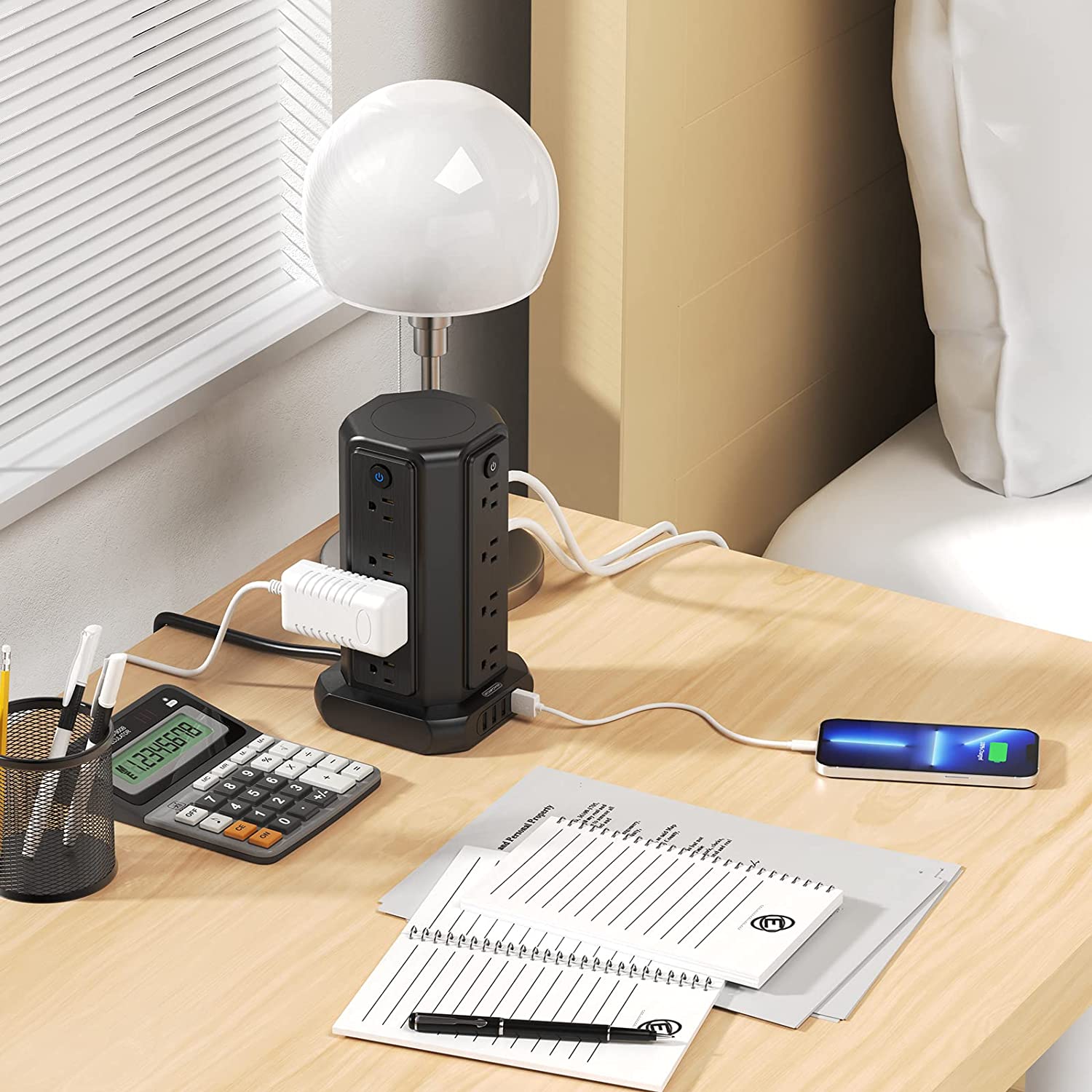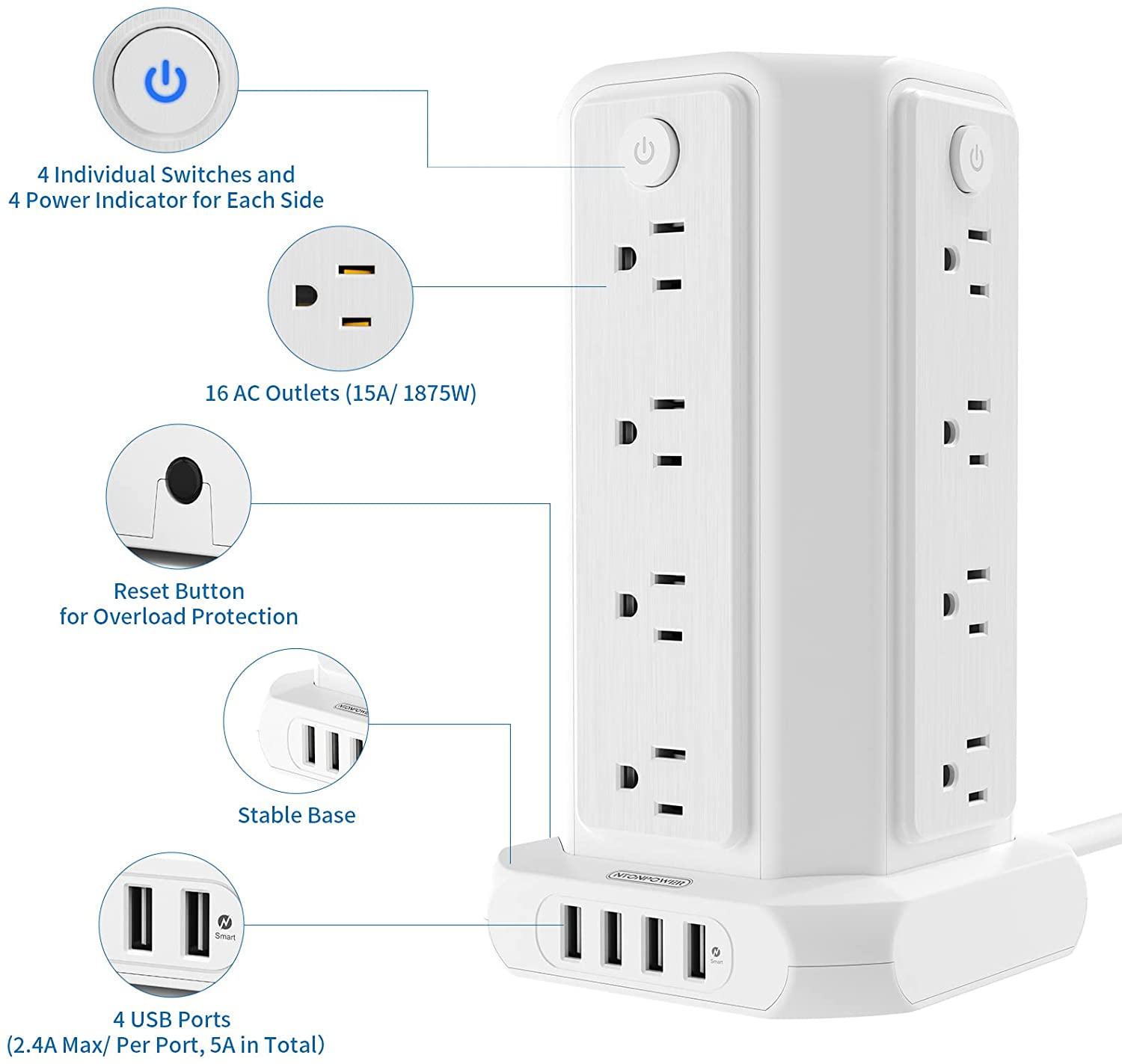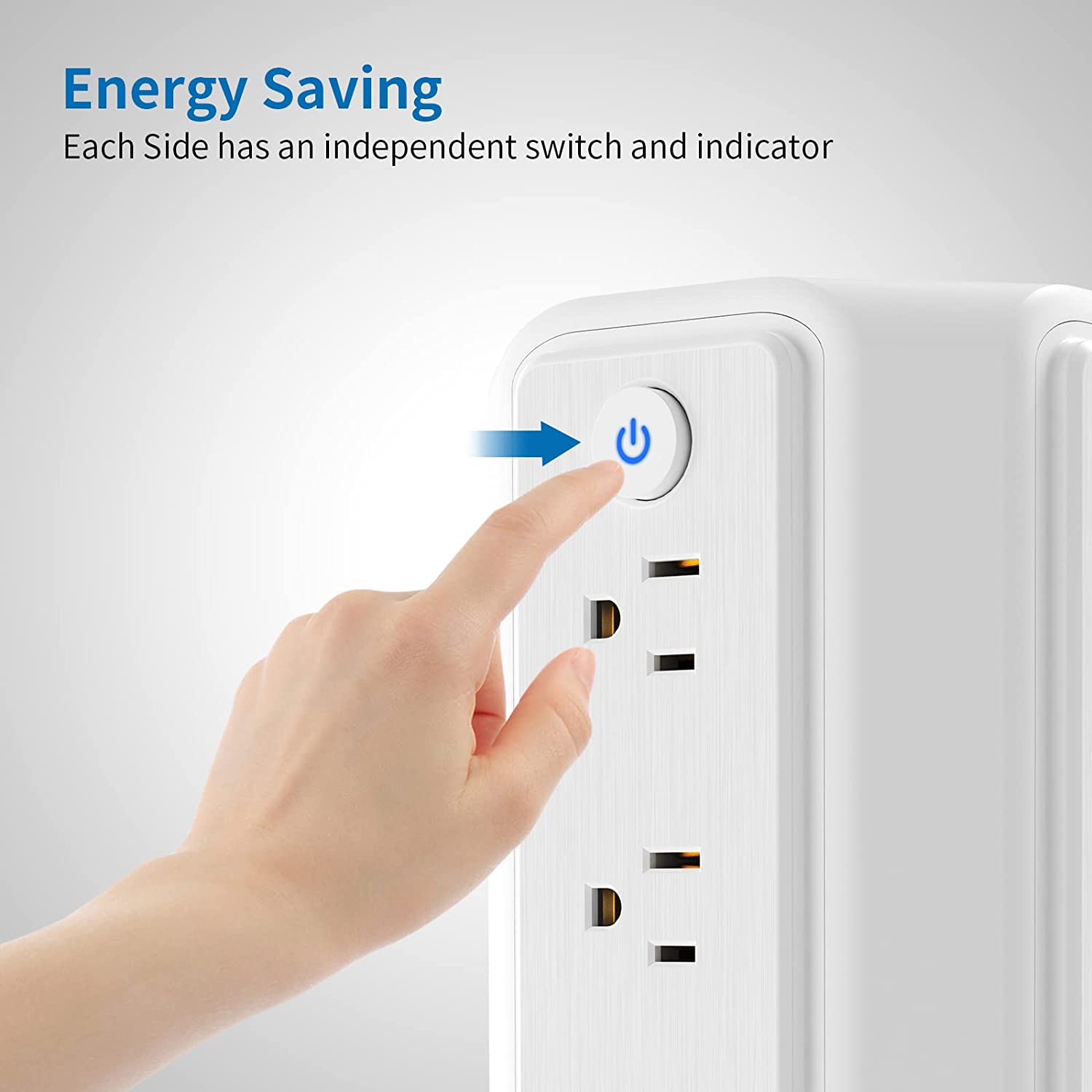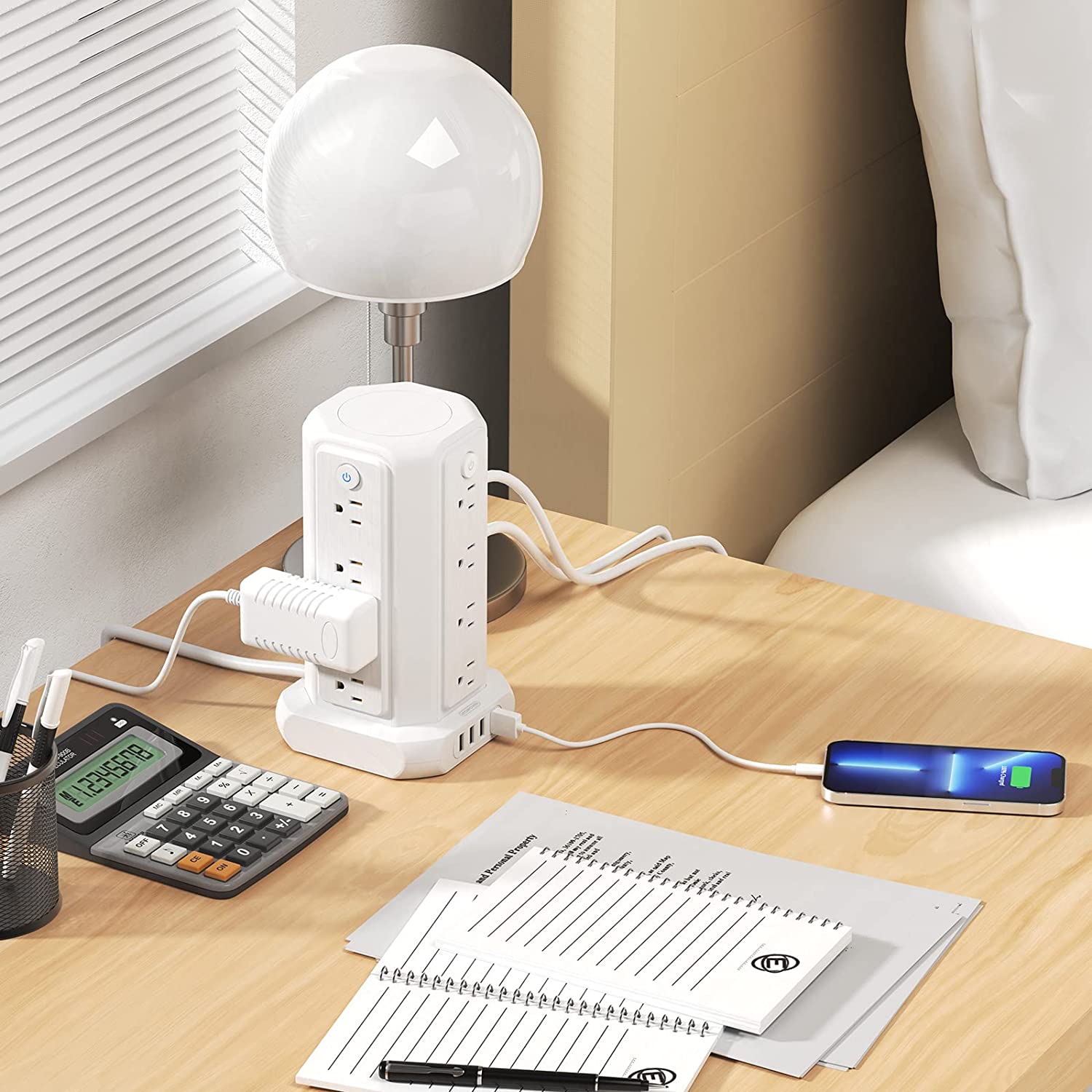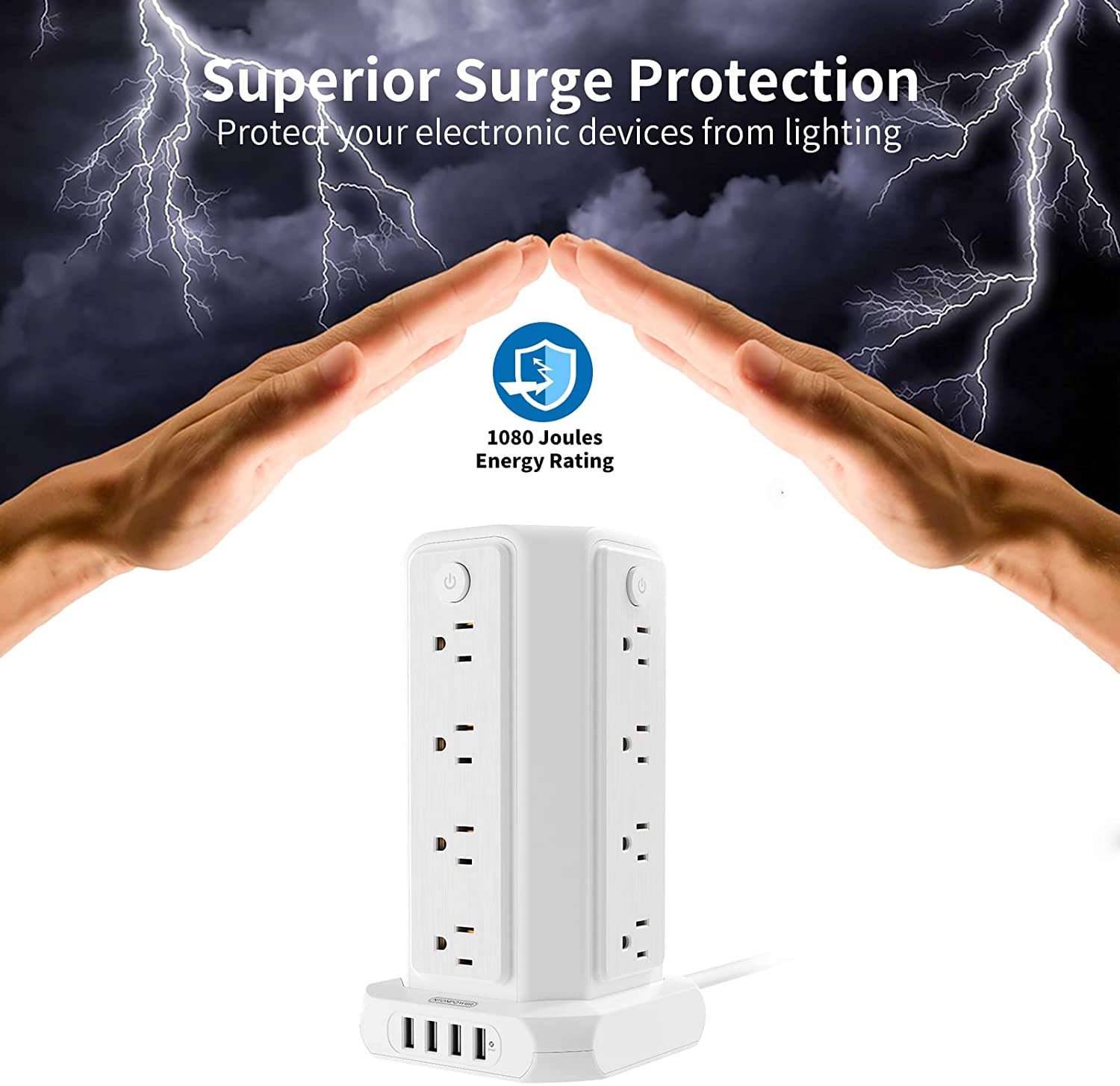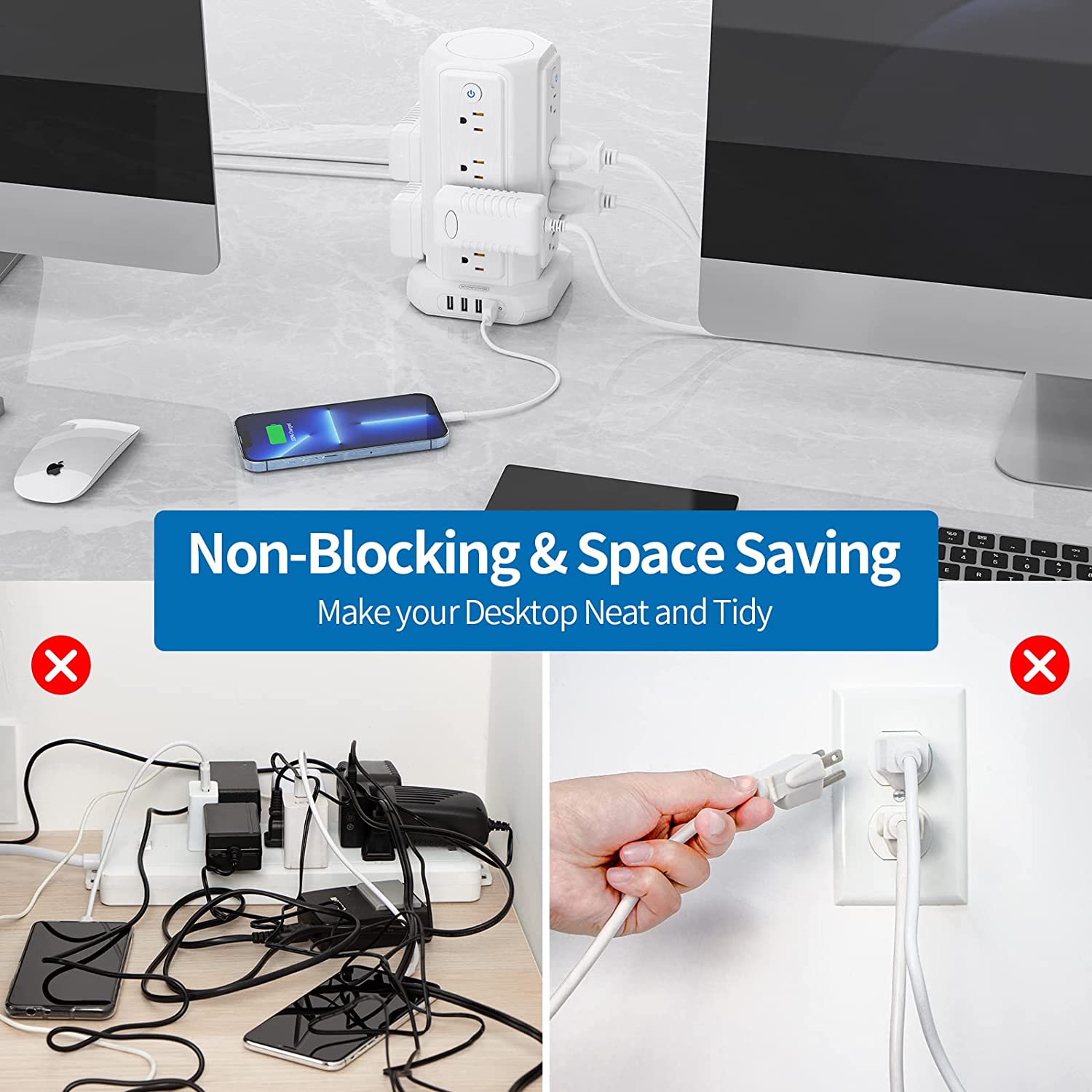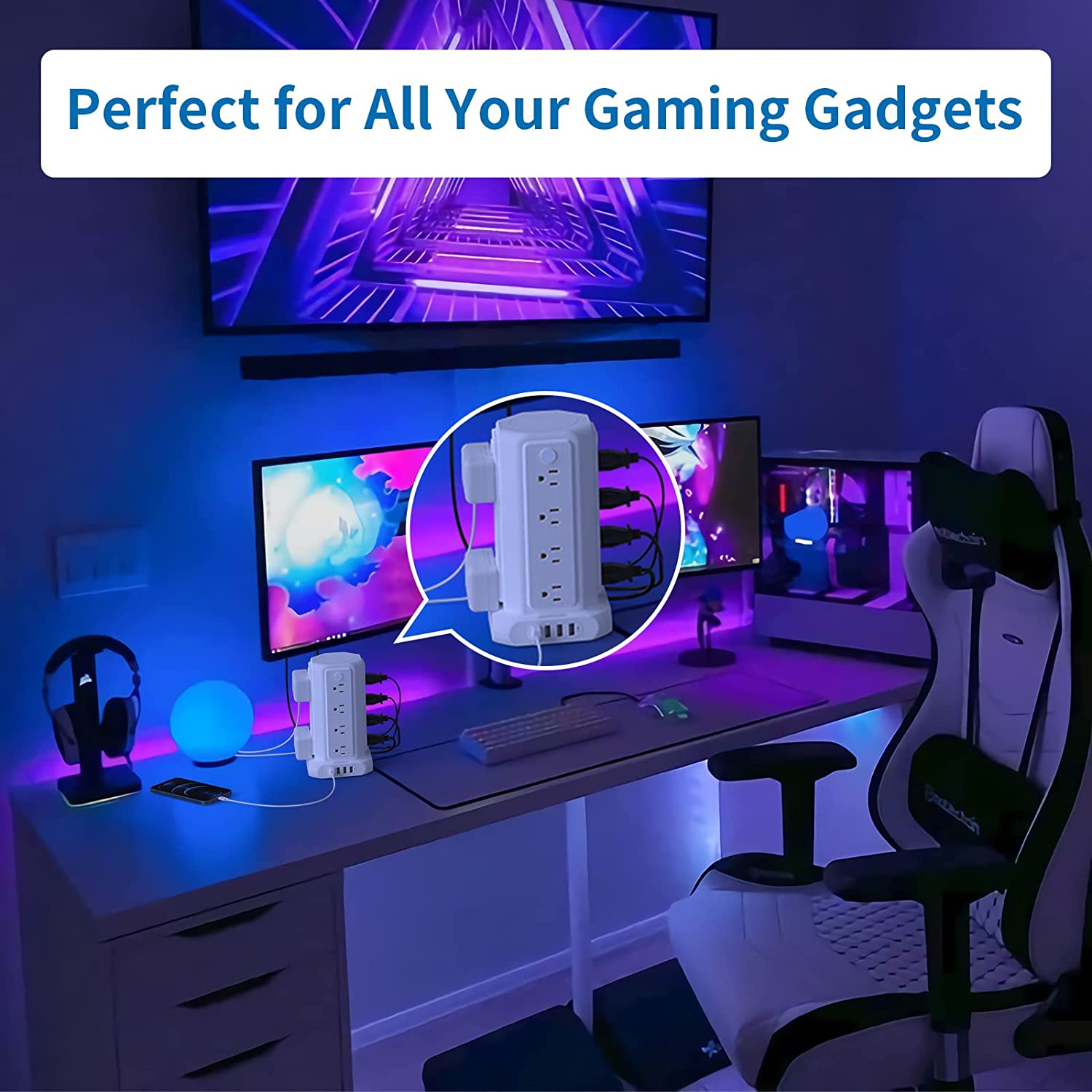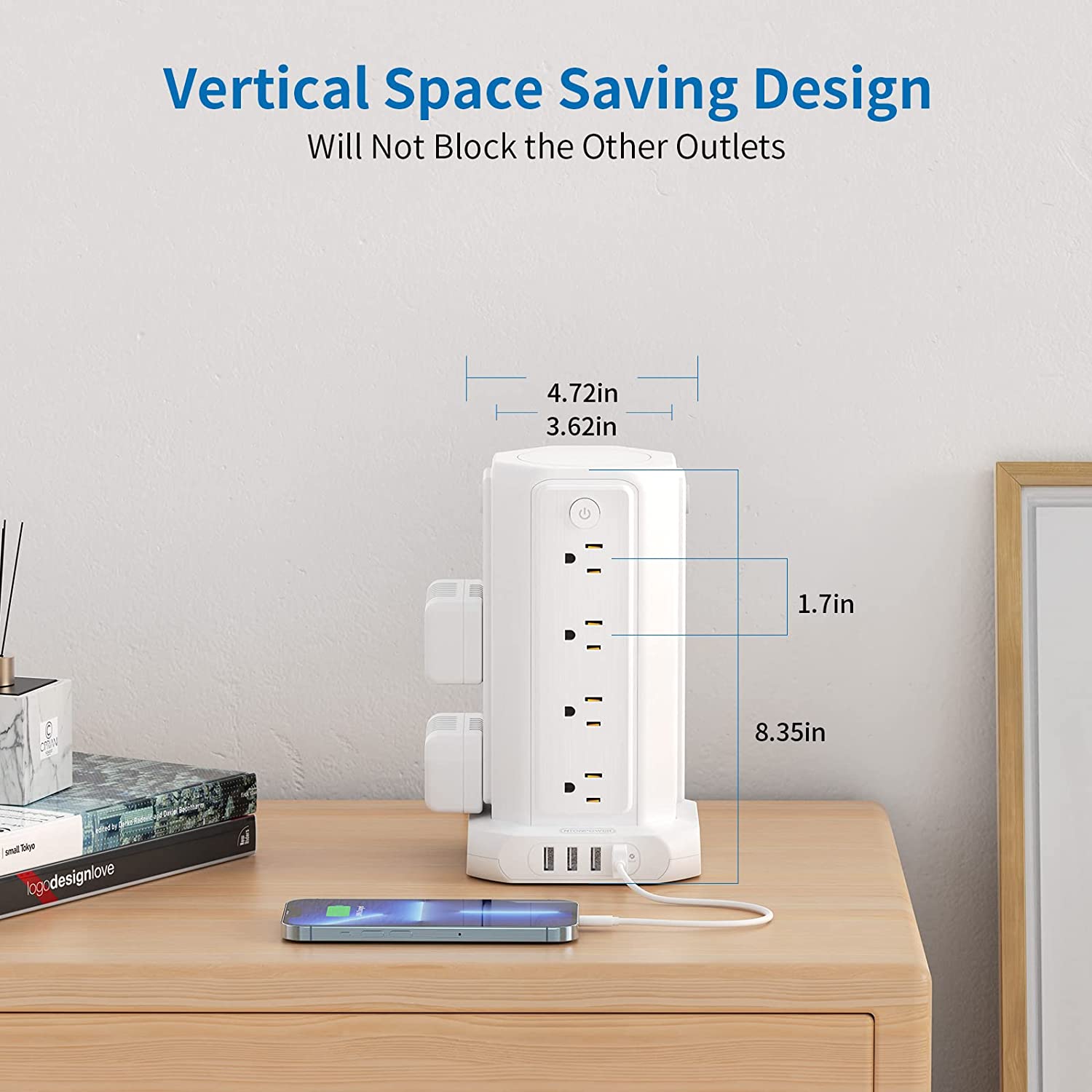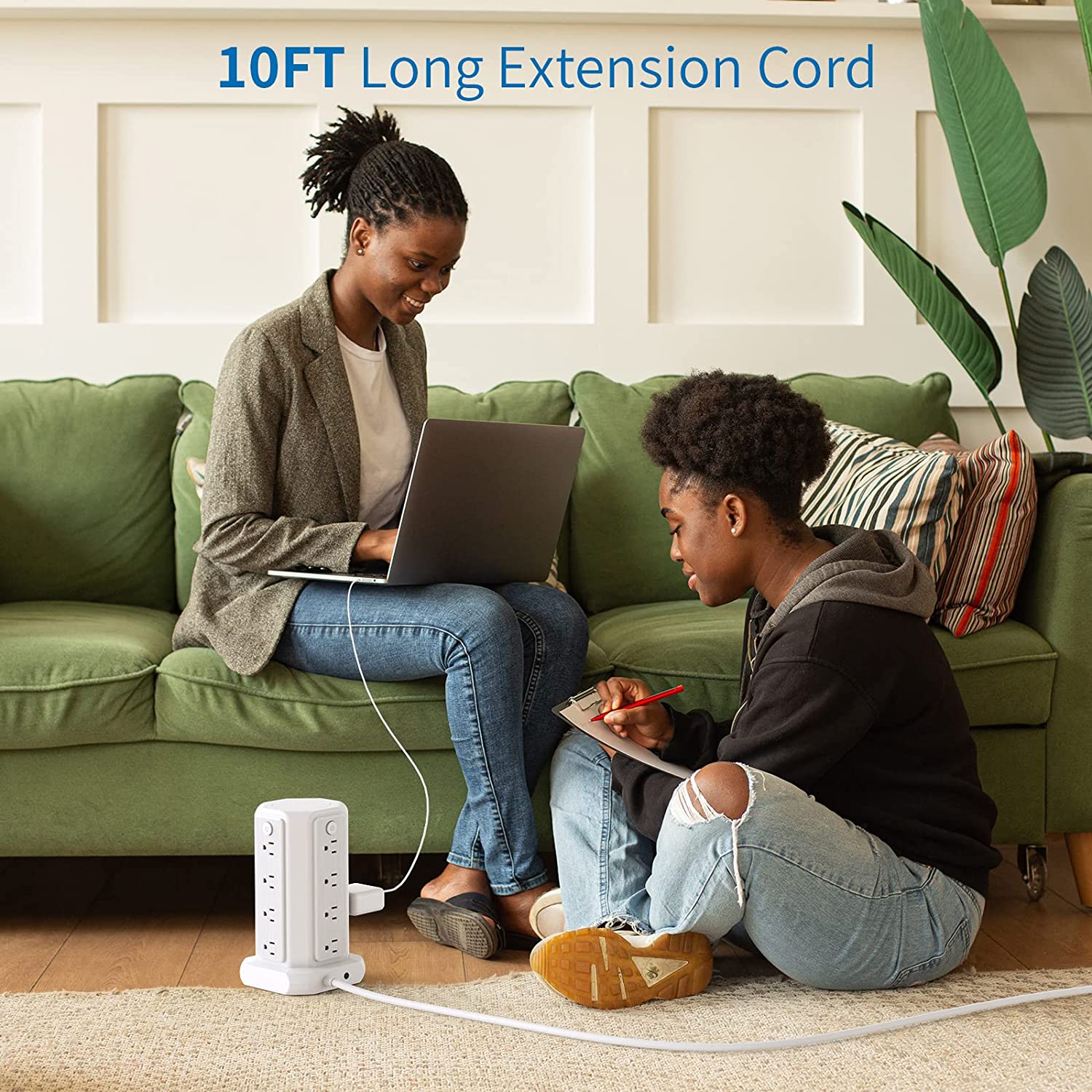 Ntonpower Surge Protection Tower 16 Outlets 4 USB 1080J Power Strip Tower
A Premium Power Strip Tower Designed for You!

1. Expanded Power ---- Charge and power up to 20 devices at the same time with 4 high-speed USB ports and 16 AC outlets.

2. Independent Switches & LED Indicators ---- This tower strip has 4 switches and 4 LED indicators, each side has an independent switch to help you save electricity when the other outlets are not in use. The LED indicators let you know the working status clearly.

3. Spacious Design ---- Our flat plug outlet strip with 16 widely spaced AC outlets, which can accommodate oversized power adapters or chargers, providing enough space between each outlet to use at the same time.

4. Surge Protection ---- Protect your high-end electronics from sudden power surges and spikes. Keep your expensive computers, TV, and all other electronics safe from circuit overload up to 1080 Joules surge rating.

5. Overload Protection ---- Rated 1875W. When the load power exceeds 1875W, the circuit breaker will trip off automatically.

6. Right Angle Flat Plug ---- The flat plug features a low profile fit in tight spaces easily, and the 45 degrees angled plug does not cover other outlets.

7. Stable Base ---- HeavyDuty base can withstand the device plugs without worrying that the plugs are too heavy for the tower to stand upright. And the 4 rubber feet at the bottom make it more stable.

8. Space Saver ---- Compared to other common power strips, our vertical charging tower saves more space. Utilizing the vertical space, saving more horizontal space, it's good to help with creating a more beautiful and cleaner dorm/office/home/kitchen/RV circumstance.

 

All-in-one Tower Charging Station & Safeguard your devices:

16 Widely-spaced Outlets with 4 USB Ports

 


Surge protection is quite important for electronic devices. This tower power strip surge protector keeps absorbing surges of various intensities to protect your devices ( TV, gaming accessories, computers etc). Therefore to protect their safe operation in rainy or thunderstorm days while extend products service life.

If your friends or families have lots of devices hanging around, then this rapid charger is a life saver! A good choice for Business, Christmas, Birthday Gift.

 


16 AC Outlets and 4 Smart USB Ports

45 Degree Angled Flat Plug Design

5FT Heavy-Duty Extension Copper Power Cord (14 AWG)

Premium Surge Protection (1080 Joules)

Integrated 15A Circuit Breaker

Convenient Individual Switches

Indicator Light-Visible Protection

1382℉ Fire-resistant Material

4-Independent Control Switch and Power Indicator

 

There is an independent control switch in each row of the power panel of a surge protector with indicator light. which could control freely according to demands, protect appliance and save power.

 

Wide-spaced Outlets

 

The closest distance between each plug is 1.7 inches. In order for you to use the 16 surge-protected outlets simultaneously, the multiple outlet power strip tower provides enough space between each outlet to be used at the same time.

 

Smart Current Detection

 

4 USB ports provide a total of 5 amps of power, Each USB port output up to 5V/2.4A.

 

 

Build in smart charging technology, the usb charger station can auto-detect your devices and provide optimized charging for iPhone and Samsung phones, plus a wide range of accessories including Apple Watch, AirPods, and Bluetooth speakers.

 




1080-Joule Surge Protection

 

With 1080 joules surge protection, you never have to worry about things like power spikes or storms damaging your valuable devices. The surge protector uses oversize metal oxide varistors that absorb electricity and release it as heat.

 

Low-Profile Angled Flat Plug

 

The flat plug can fit in tight spots behind furniture, such as sofa, bed, nightstand, couch, or TV stand. When using the socket, the furniture can be closer to the wall to save space.

 

 

45-degree angled design doesn't block the bottom receptacle of the duplex wall outlet.

 

Overload Protection Button

 

Our tower power strip is built-in reset button. When overloaded, this reset button will be activated to cut off the current and prevent your expensive devices from being damaged. When the temperature drops to normal, unplug all the plugs and press the button to reset then your power strip tower can recover.

 




5FT Heavy Duty Copper Extension Cord

 

15A 14AWG UL list 100% copper core power cord insures high conductivity and safety. 5ft cord design helps protect the cord from damage and ensures optimal power flow to your devices.

 

Stable Base with Rubber Feet

 

The width of the base is bigger than the power strip itself, which makes it more stable than oridinary tower power strip.

 

 

And 4 rubber feet on the bottom keep it from slipping and sliding.

 

1382℉ Fire-resistant Material

 

This fireproof extension cord with USB is made of ABS+PC, whose ignition temperature is as high as 1382℉ and self-extinguishes right away after it is ignited by fire from outside, the highest level fire-retardant material, it's very safe and value for money.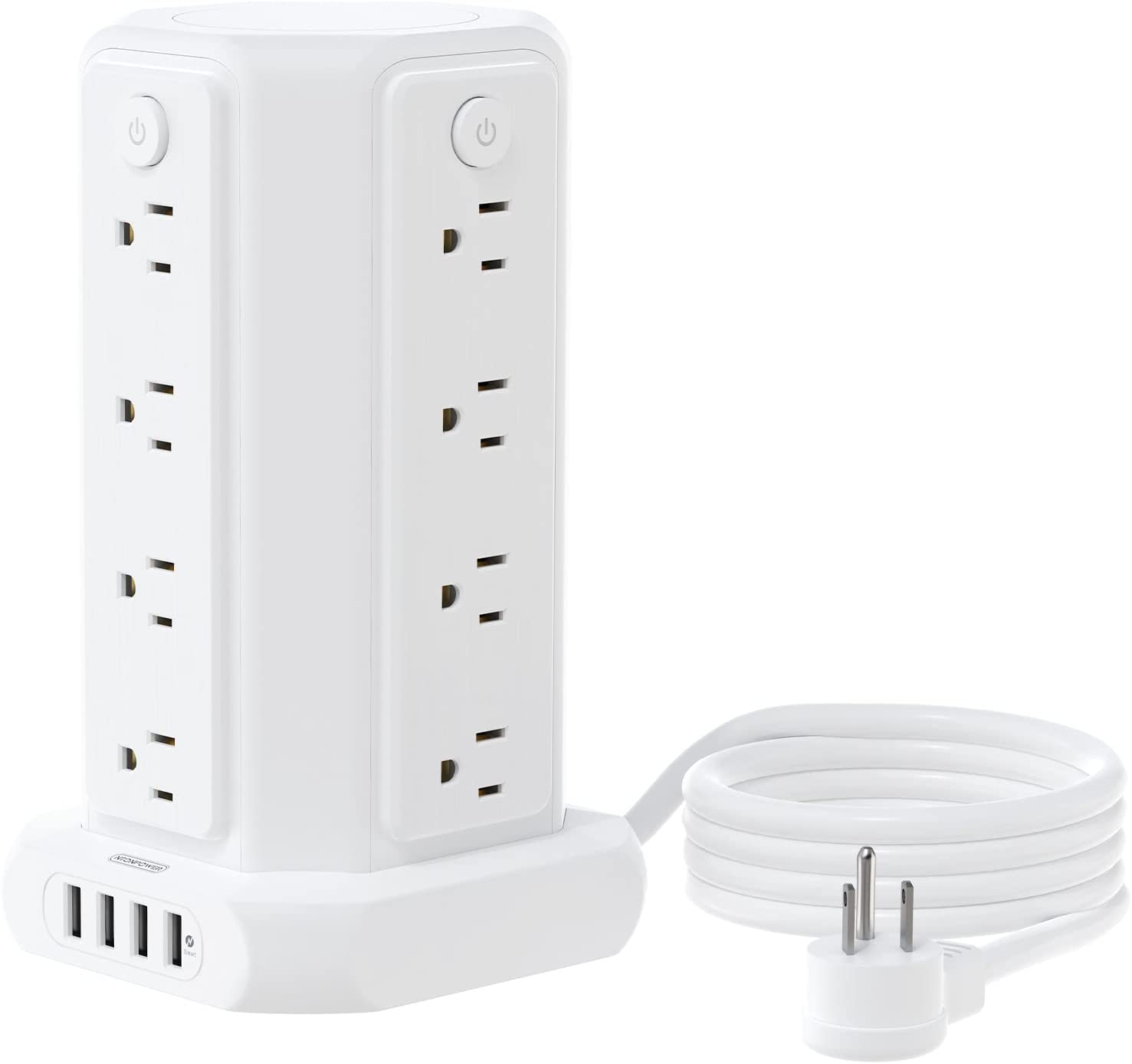 Contact Us
Do you have any question?
We will respond within 24 hours on working days from Monday to Friday.
This product has no reviews yet.