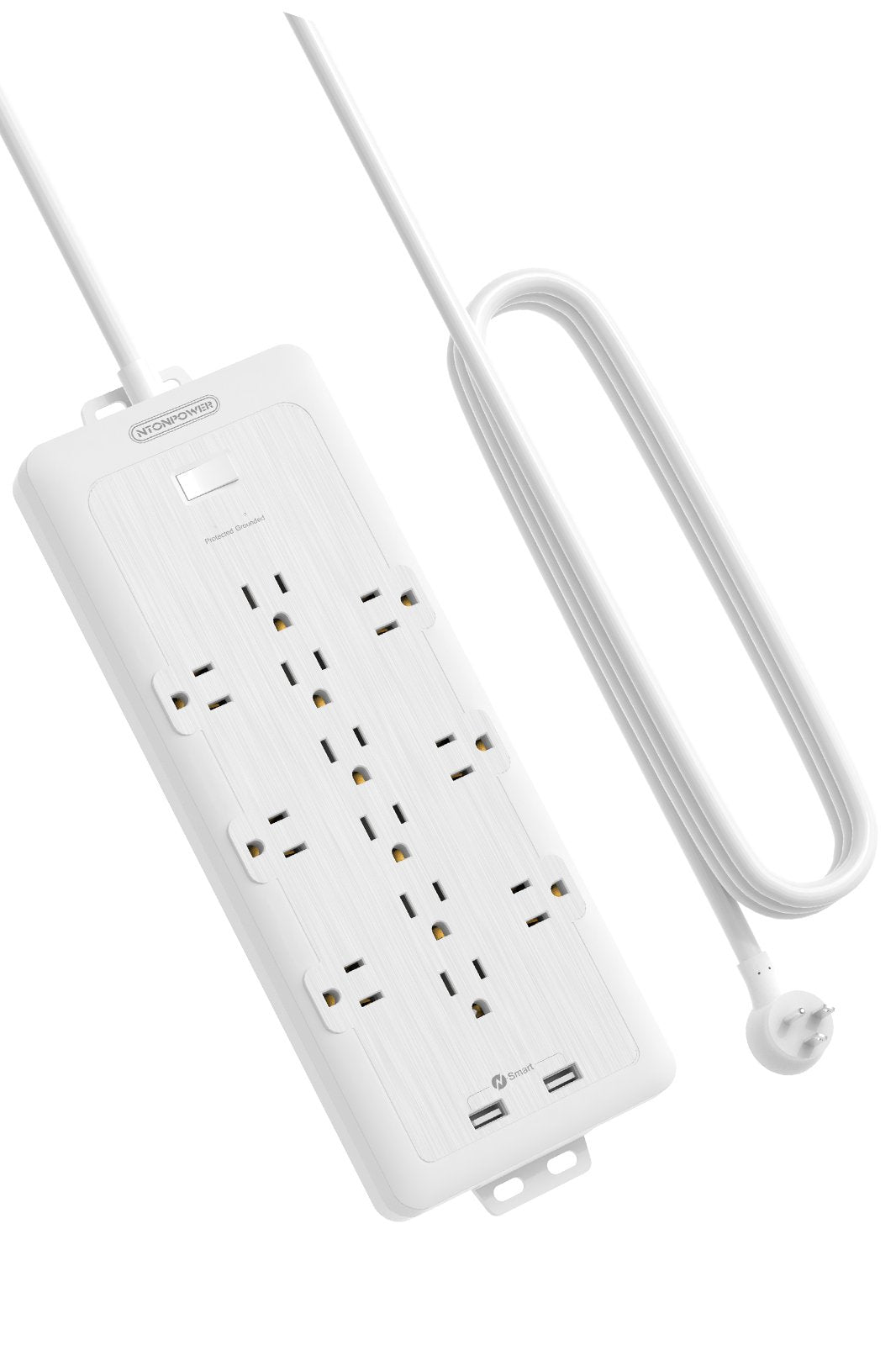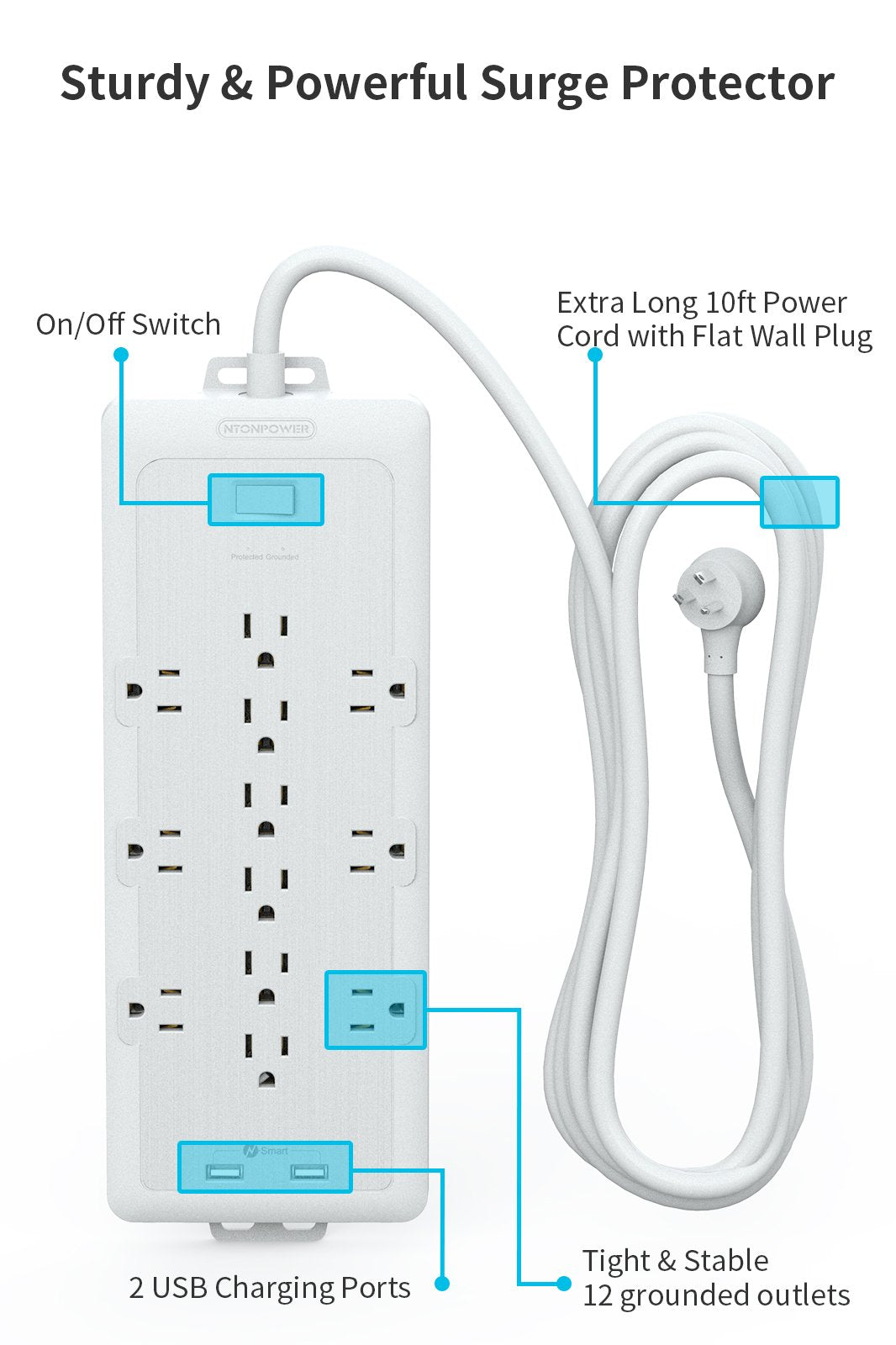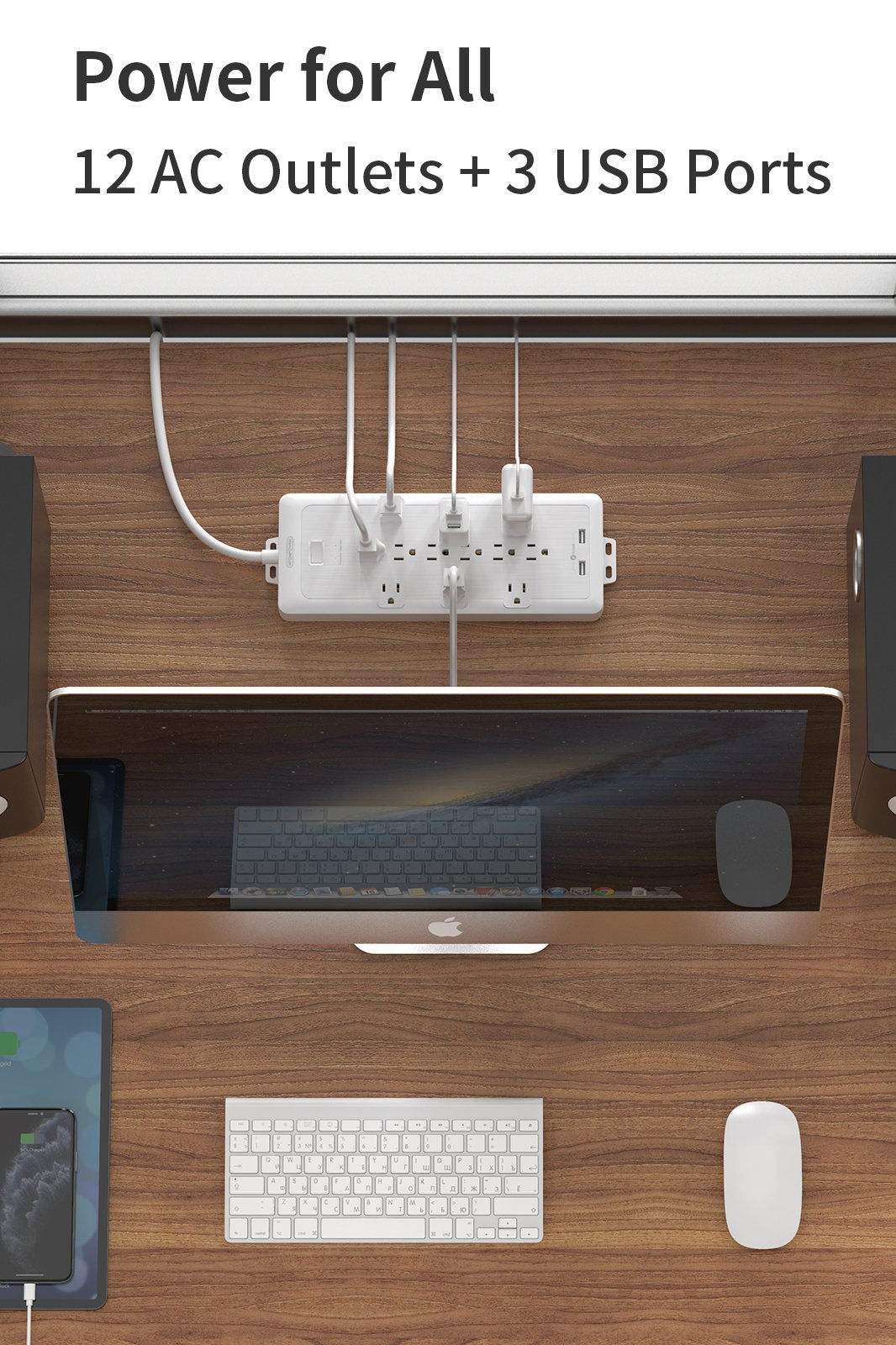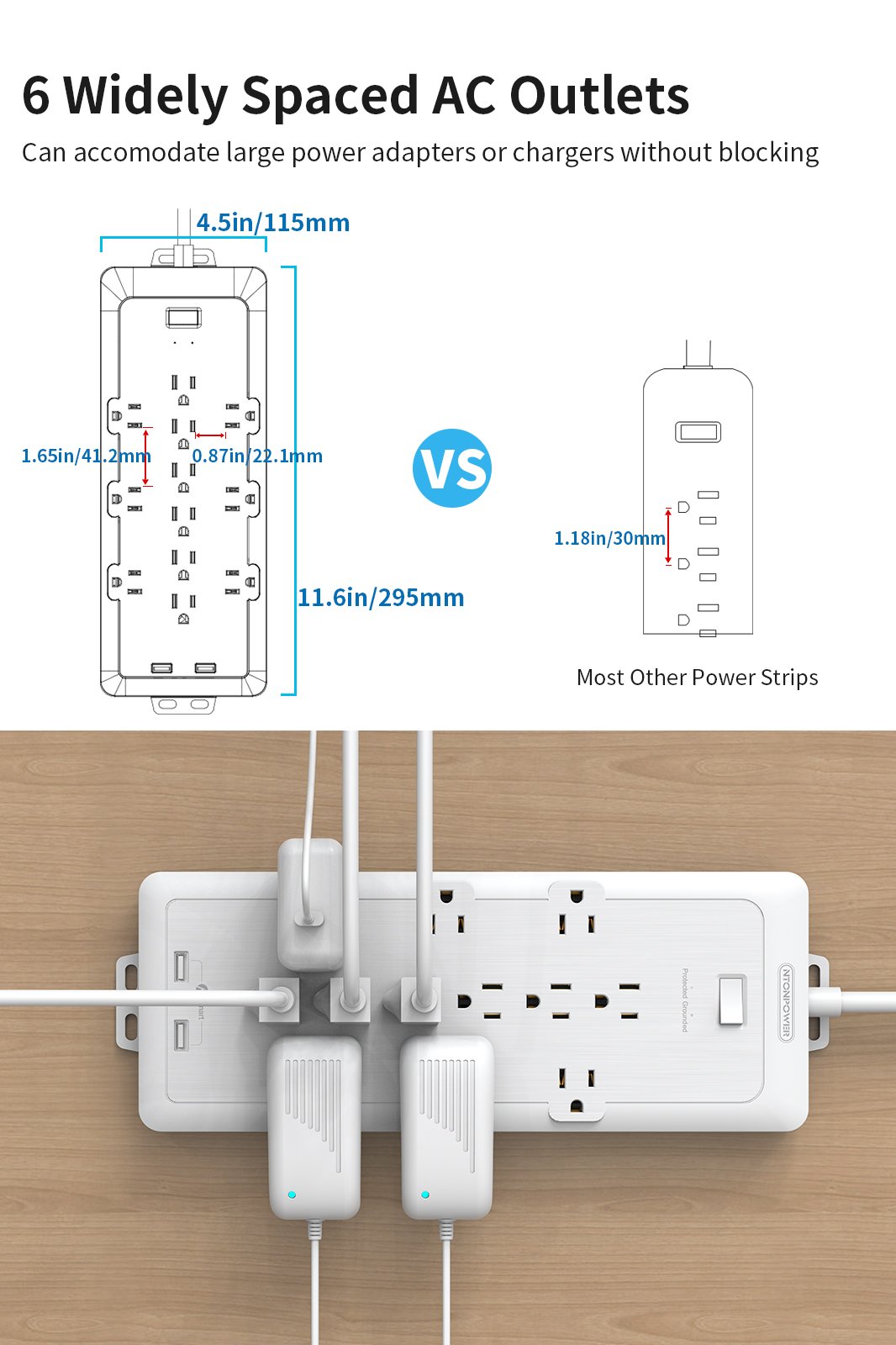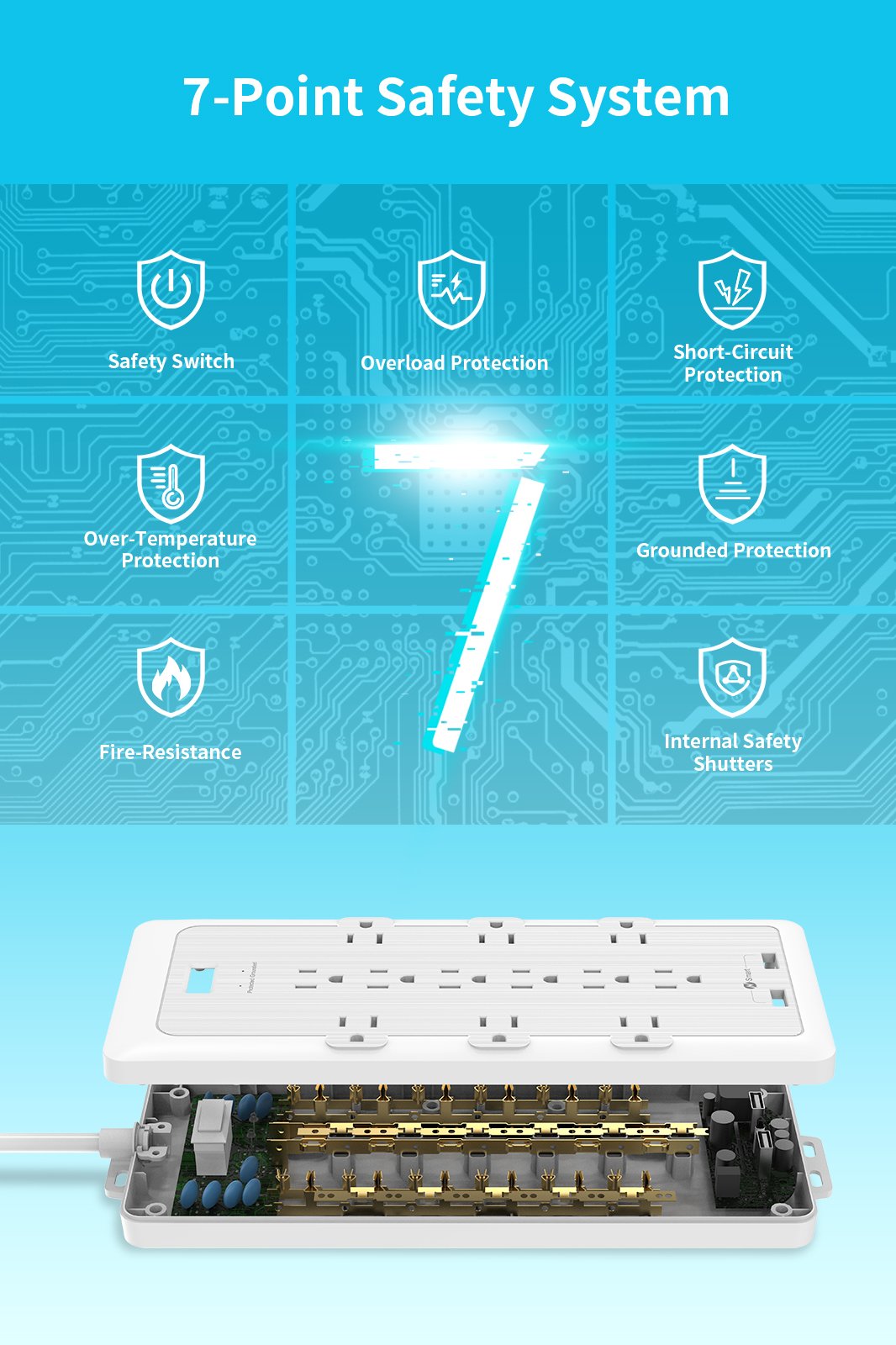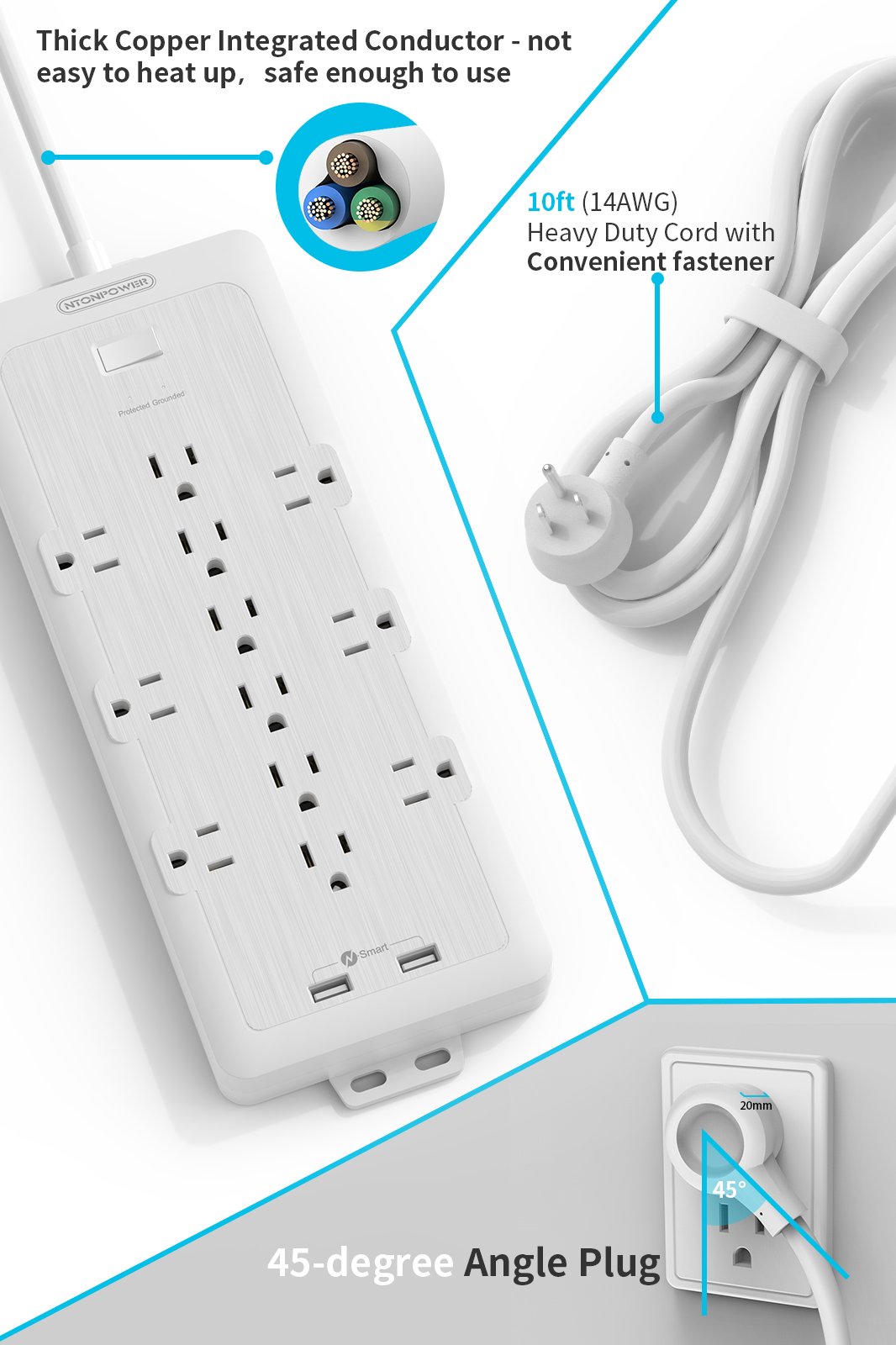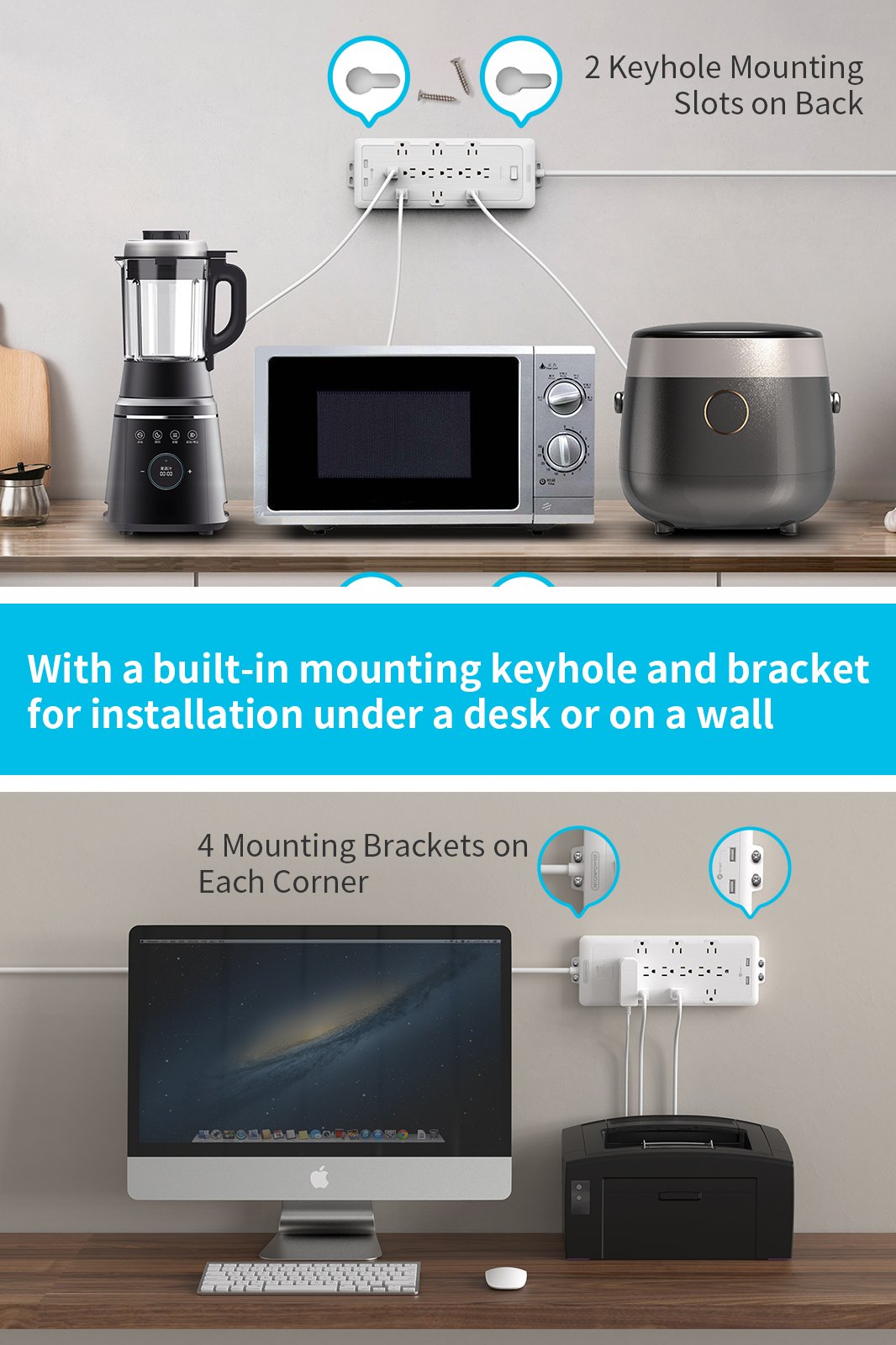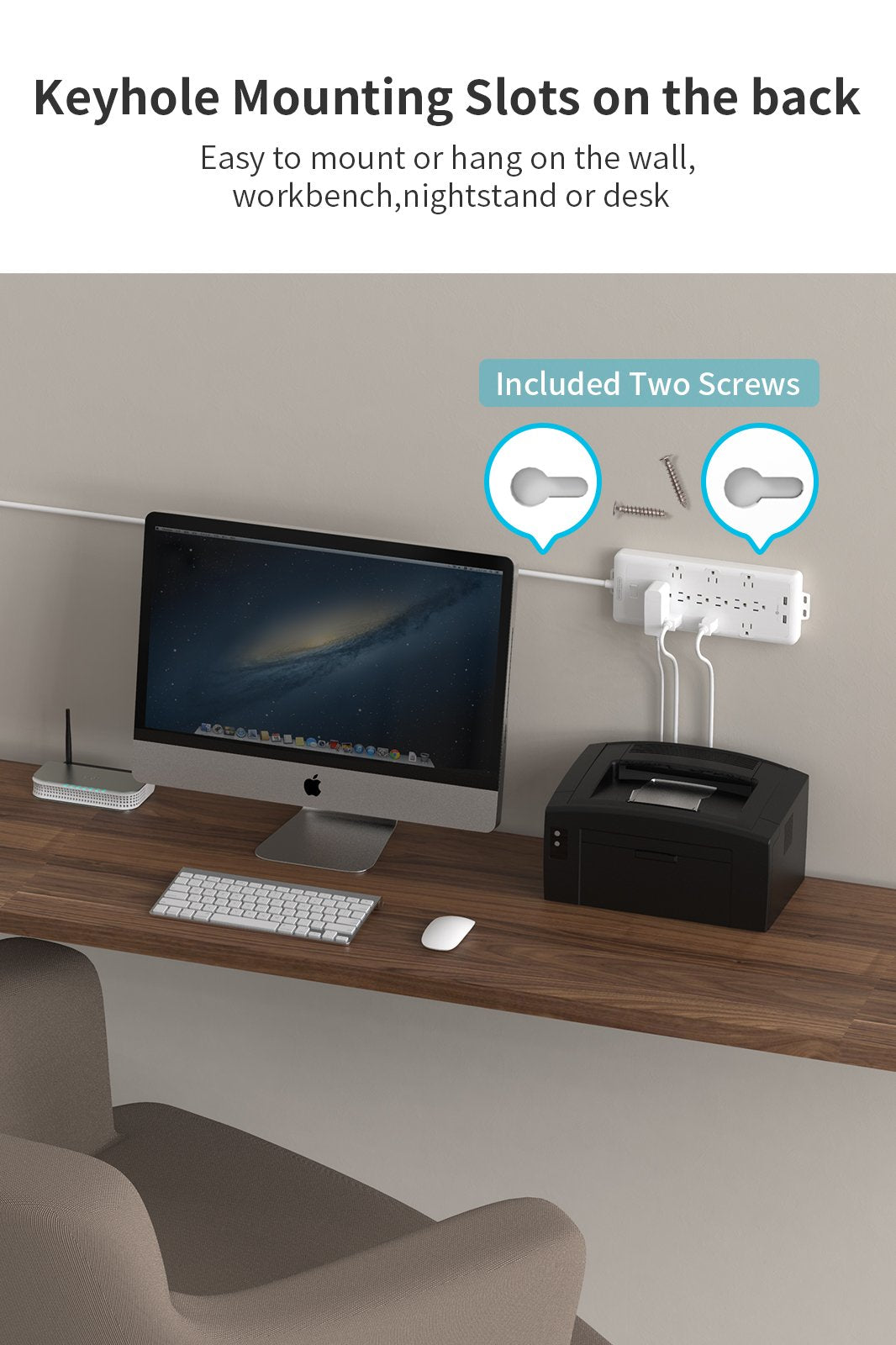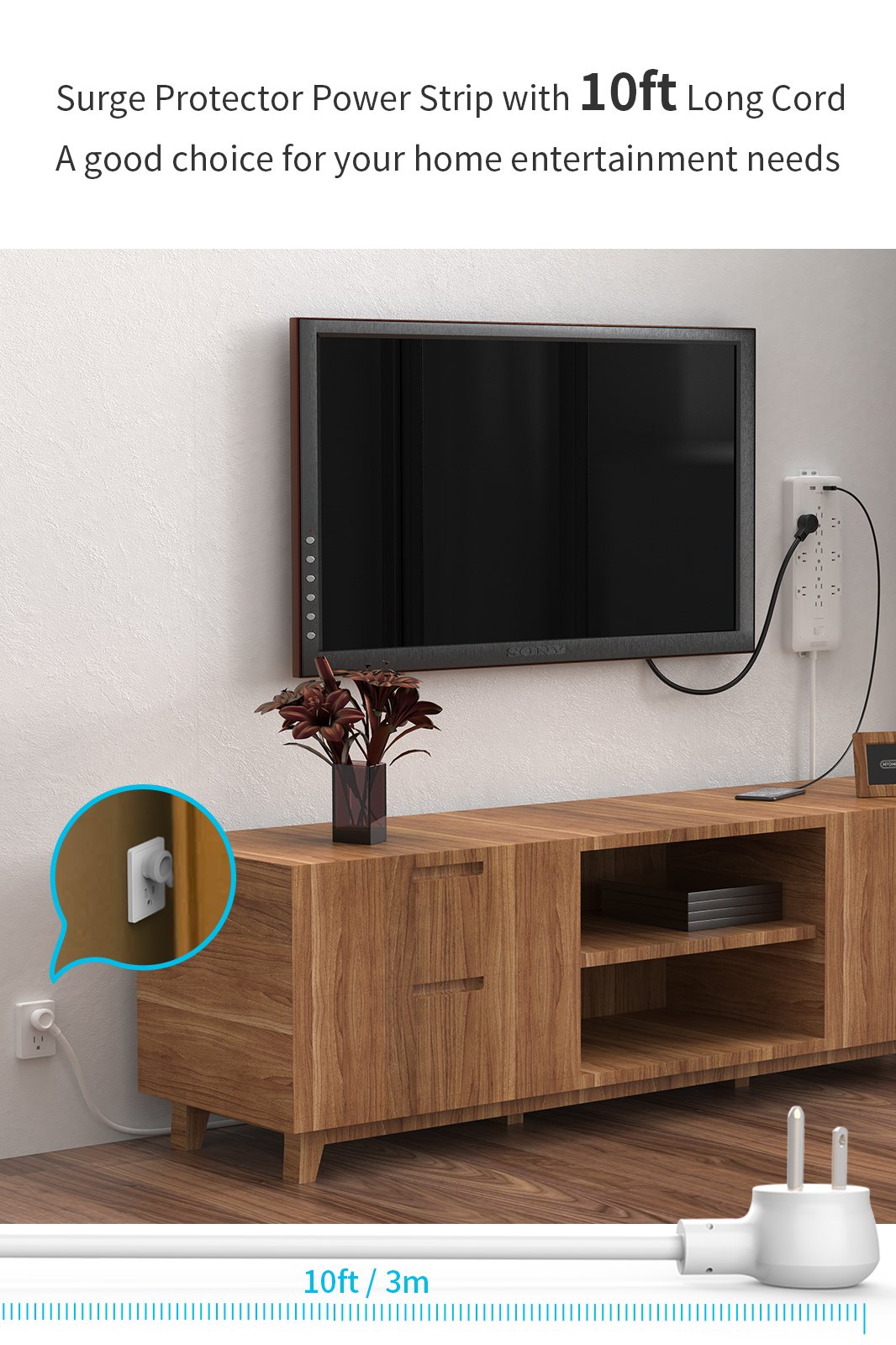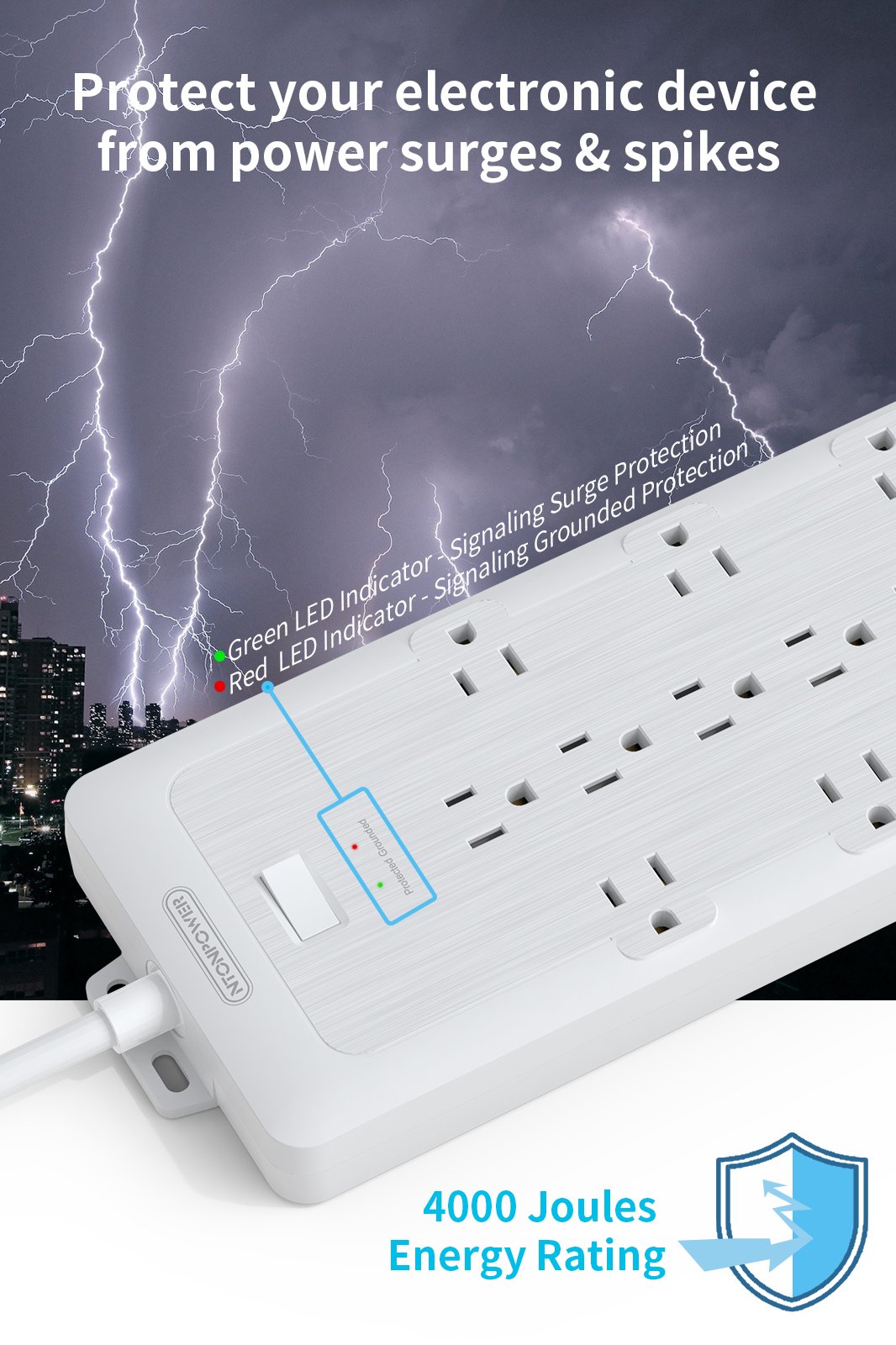 Ntonpower SurgePro 12 Outlets 2 USB 4000 Joules Protector
WHY YOU NEED NTONPOWER USB SURGE PROTECTOR?

1. This USB power strip can turn a regular wall socket into 12 AC outlets and 2 Smart USB ports: 6 compactly allocated sockets are ideal for home office and professional workstations, and 6 widely spaced sockets enable you to manage with bulky plugs easily.

2. The extra long 25 ft extension cord gives you flexibility to reach distant outlets and hard to reach places. A perfect solution for when power outlets are not conveniently located nearby.

3. NTONPOWER large space surge protector with 4000 Joules surge protection energy rating, which can power and protect your computers, mobile phones, laptops, and other electronics appliances from voltage fluctuations, surges, and spikes.

4. The 45-degree right angled flat plug design keeps the other wall outlets free and ideal for tight spaces like behind furniture.

5. In the event of power overload, the reliable Double-Break safety switch will trip off automatically to protect your devices and your home. The switch at the top has been exquisitely designed, to ensure it won't get stuck after a long time of use.

Important Remarks before Buying:

->For your safety, ensure that the load power DO NOT exceed the rate power of 1875W.

->The 12W USB charging is NOT Fast Qualcomm QC3.0, It can meet most usb devices charging needs without an extra power adapter.

Smart Charging

Our top-notch USB smart charging technology enables faster charging efficiency and more energy savings.

Voltage Compatibility: 100~240V AC 50/60Hz

Max. Power Rating: 1875W (125V~ 15A)

USB Charger: DC 5V 2.4A each port, 2.4A 12W in Total

Cord Length: 25 ft/7.62m

Indicator: White LED Light

Item Dimensions: 11.6*4.9*1.5 in

Certification: FCC, RoHS, DOE (Level VI)

NTONPOWER Surge Protector Power Strip with 25 ft Power Cords for Home & Office Workstation

12-Outlet Surge Protector Power Strip with 2 high-speed USB charging ports

12 AC outlets allowing you to power up to 12 devices like computers, TV, home theater systems, peripherals, kitchen appliances and other standard household electronics ect.

Meanwhile, it features keyhole mounting holes on the back, which allows it to be securely installed in various applications, including workbenches, wallmounts, floormounts, under counters & more.

This Multi outlet strip has a brushed white aluminum design in a compact frame that adds functional style to your home/work area.

6 Regular AC Outlets, 6 Wide Spaced AC Outlet and 2 USB Ports

Premium Surge Protection (4000J)

Low Profile Flat Plug

25ft Heavy-Duty Extension Cord (14AWG)

High-Speed Charging

15A Circuit Breaker

Flame-Retardant Casing

Convenient Wall Mounting Holes & Screw-mounting Tabs




 

Extra 6 Wide Spaced Outlets with 2 USB Ports

You may ever suffer from the annoying when we plug in a big plug since the space between outlets is narrow.

Our surge protector power strip with USB with 6 widely spaced AC outlets, so you can use larger plugs without blocking.

With 12 outlets and 2 USB ports, you can charge 14 devices at the same time, such as your Computer, TV, hair dryer, phone, tablet, Kindle, laptop, camera, humidifier or else.

Surge Protection

Built-in varistors that absorb excess power to protect your electronic devices from sudden surges, thunder strikes, and AC contamination.

It features two LED indicators (Power & Protected) to indicate that your electrical devices are protected and the power is on.

Extra long 25ft extension cord

The 25 ft long extension cord power strip surge protector provides optimal reach on your desk, floor, or entecrtainment center.

Perfect solution for awkward outlet placing.

Screw Mountable Design

It has 2 mounting keyholes and 2 screw-mounting tabs on the back. You can now securely mount it in various applications, including workbenches, wallmounts, under counters & more, saving desktop space for you.

Included two screws and a template for locating the mounting screws.

Low-Profile Angled Flat Plug

The flat plug can fit in tight spots behind furniture, such as sofa, bed, nightstand, couch, or TV stand. When using the socket, the furniture can be closer to the wall to save space.

45-degree angled design doesn't block the bottom receptacle of the duplex wall outlet.

Overload Protected Switch

This surge protector built-in Circuit Breaker to safeguard your expensive devices and your home.

If the power load exceeds 15A/1875W, the reliable overload switch will trip off automatically to protect your devices and your home.In this case, please unplug some devices and put the power switch to the RESET position to reuse.

Non-Slip Mats & Flame-Retardant Materials

Soft Silicon Non-Slip mats added at the bottom to make the power strip apply to all kinds of desktop closely adhered, in case of scratching and sliding.

Environmental protection and fire-prevention materials, Flame retardance at 1382(℉)/750(℃)

14AWG Heavy-Duty Power Copper Cord

UL Certified 2.08mm2 3x14AWG Phosphor Copper Wire.

The Thicker Copper Wires for Stronger,High Conductivity,More Efficiency Power Output,Low Heat&More Safety.

A Tough Coated Power Cable withstands Pressure for Enhanced Safety and Longevity.

 

*NTONPOWER specializes in multiple outlets USB Power Strips ( Outlets ranged from 2 to 12 ) for home/travel/office/business center.

Meanwhile,Our tops USB Smart Charging Technology enables fast charging and more energy savings.

This product is sold exclusively by NTONPOWER.

Only buy from our store to get genuine NTONPOWER products with superb service.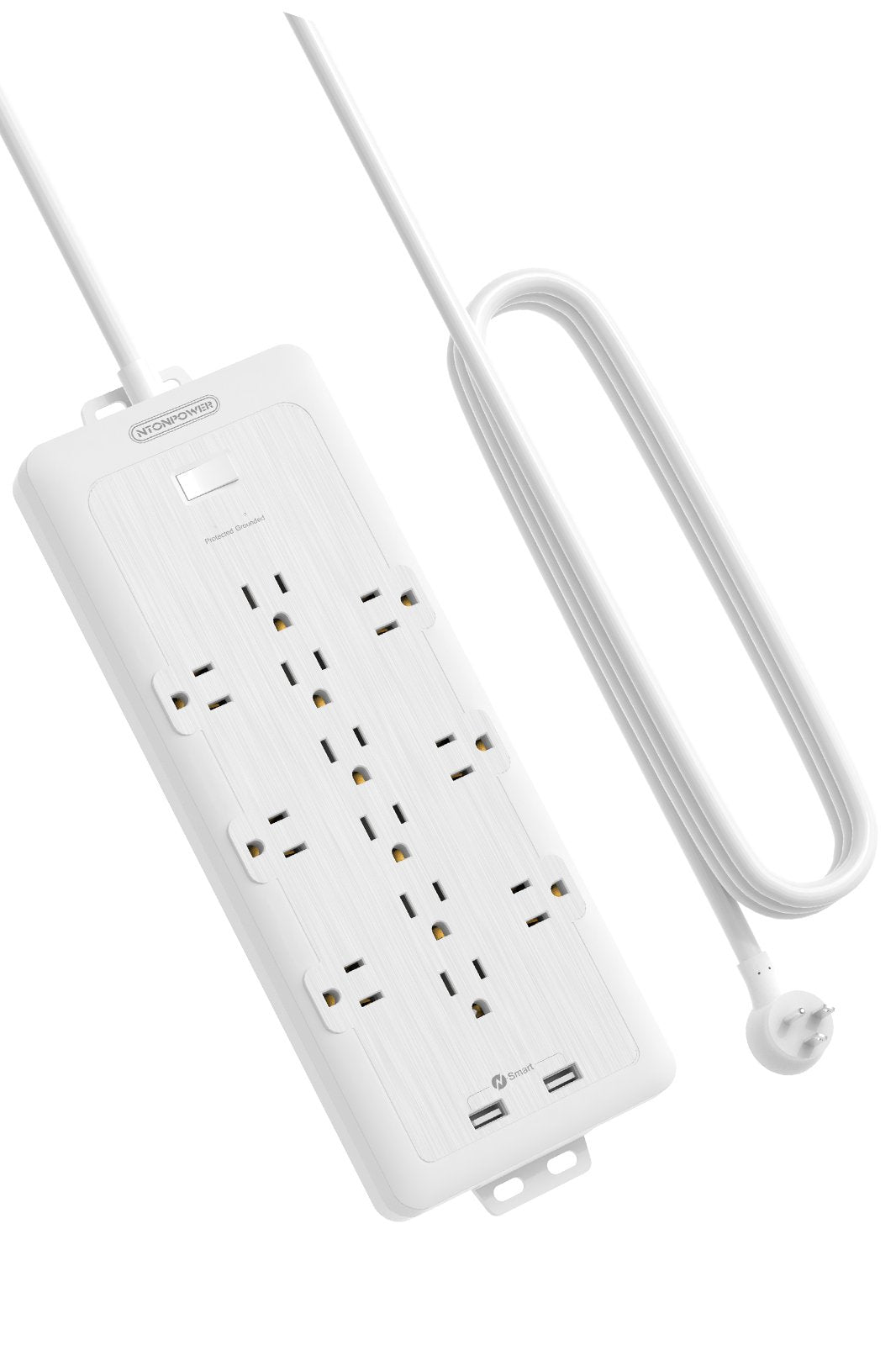 Contact Us
Do you have any question?
We will respond within 24 hours on working days from Monday to Friday.
This product has no reviews yet.