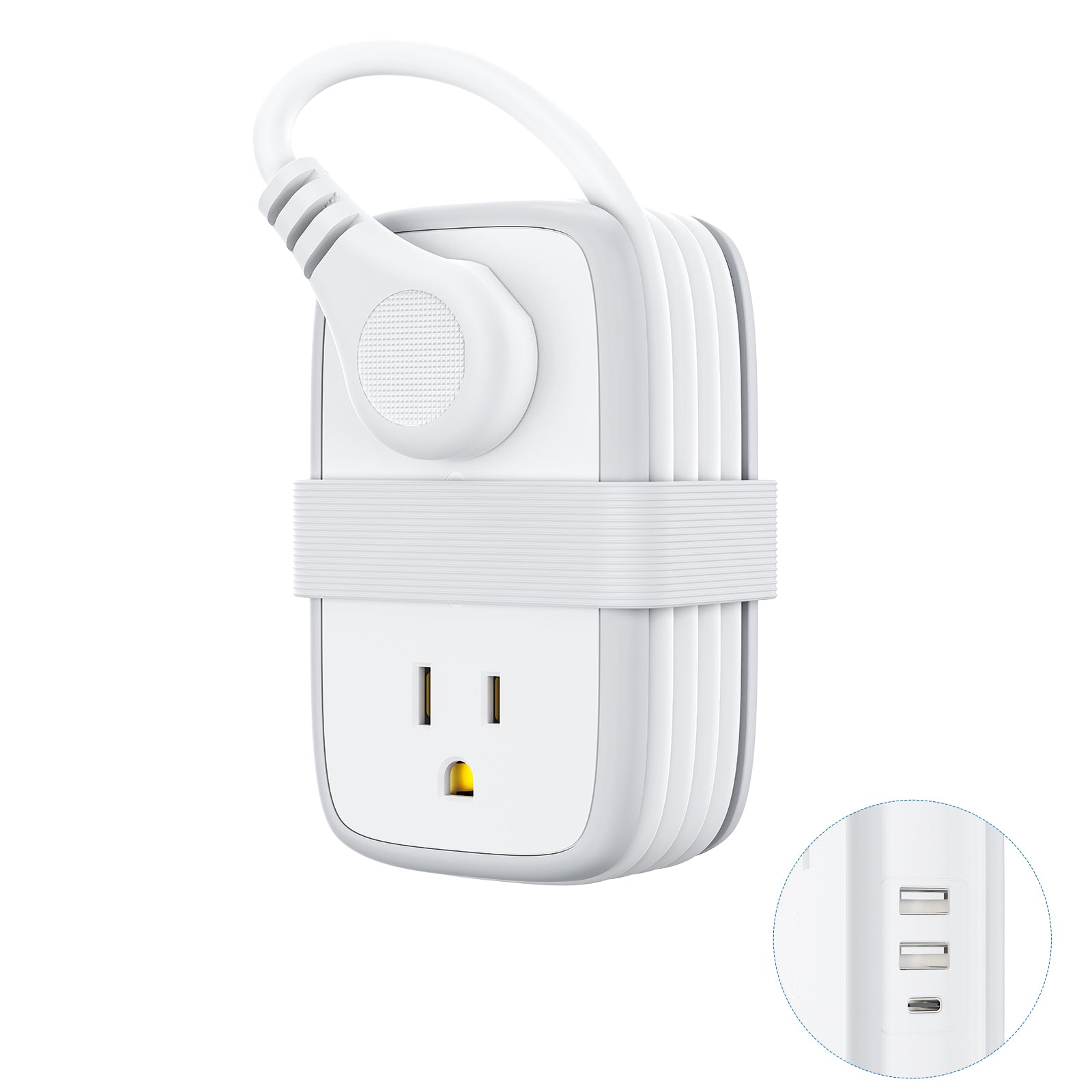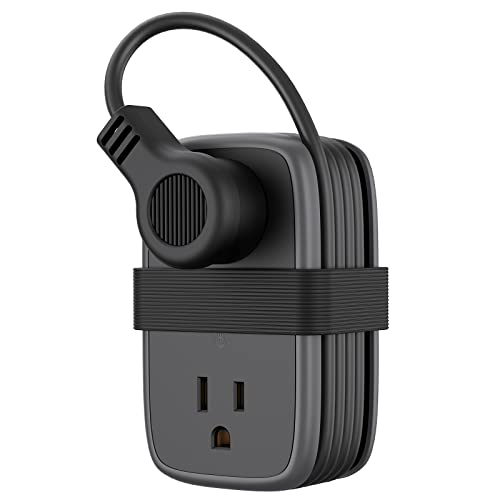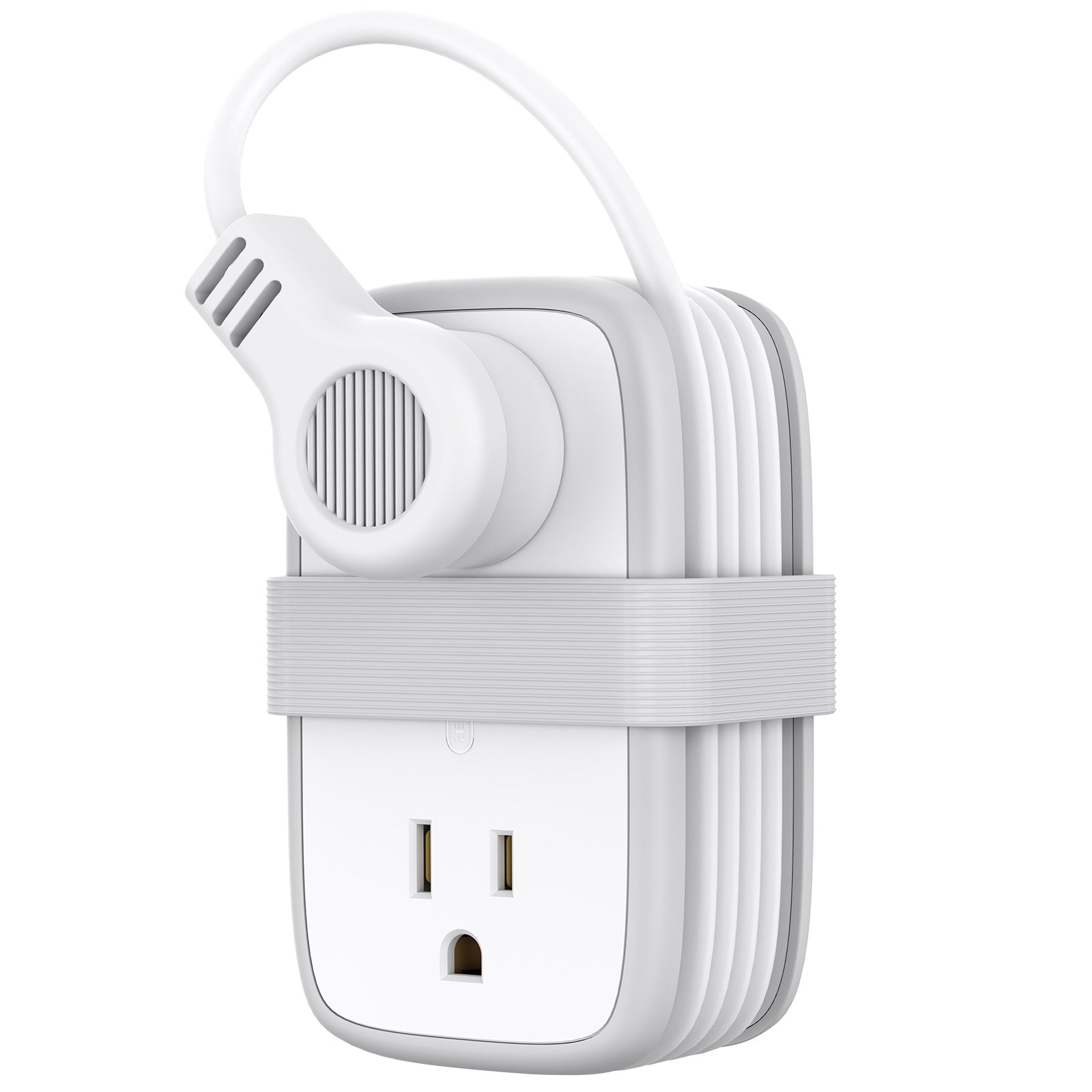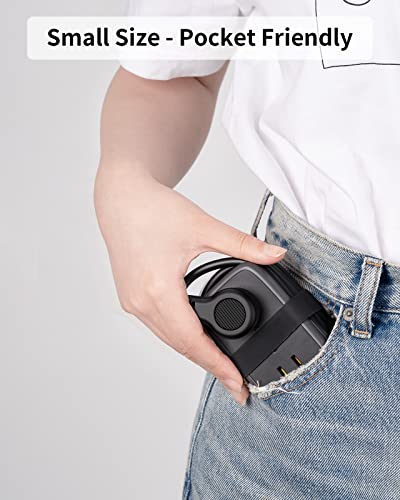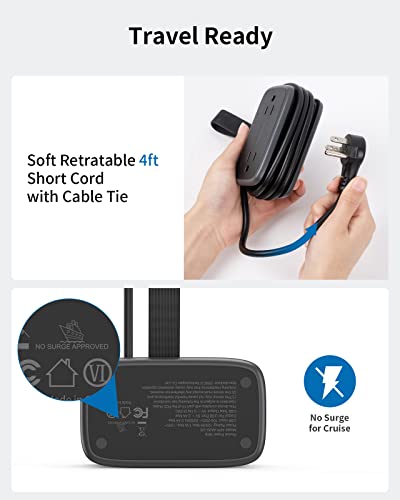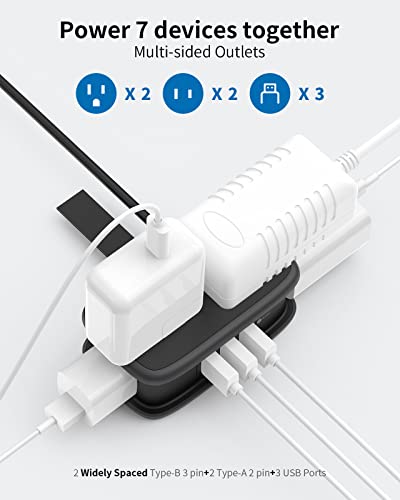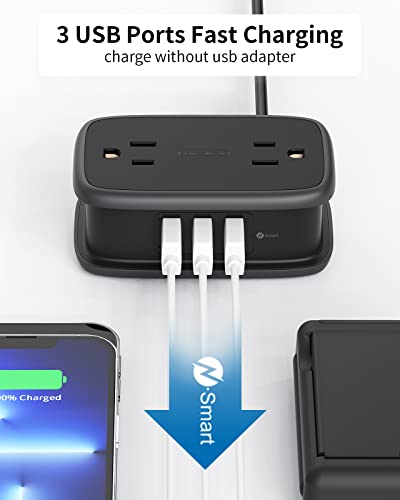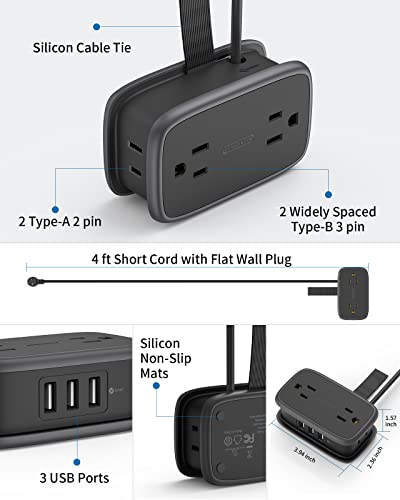 Ntonpower Pocket Power Strip 4 Outlets 2 USB Ports 1 Type C
TRAVEL-FRIENDLY DESIGN WITH WRAP-AROUND SHORT CORD: Carry-on Mini Pocket size With 4ft Wrap Around Cord. Lightweight 8 oz power strip won't weigh down your travel bag; Flexible 4ft cord cleverly wraps around the body and plugs into a ac socket for neat storage

[7 in ONE FOR NIGHTSTAND & TABLE DESK]: NTONPOWER pocket power strip is small and ergonomically designed with 2 Wide-spaced 3 Prong outlets, 2 Type A 2 Prong outlets, and 3 USB ports, expanding 1 to 7. The desktop power strip flat plug works great on your nightstand, home and office table desk to handle your Bluetooth speaker, laptops, smart phone, iPads, camera battery without probolems

[CRUISE MUST HAVES]: The non-surge protector, cube shaped power strip comes with 4 outlets / 3 USB ports and it is in perfect size that fits right in the palm of your hand. Great for frequent traveler cruise ships, hotels, home where there are few unreachable outlets

[FULL-ROUND PROTECTIONS]: The travel cruise power strip is FCC & RoHS approved with high temp fireshield outer shell, ensuring complete protection against electrical short circuit, over heat, over charging, over current and over voltage

[HASSLE FREE PURCHASE]: No worries at all if Amazon return window closed after1 month. Directly contact us within the 18 months warranty for quality-related replacement or refund. NTONPOWER travel power strip also backed by $300, 000 connected device liability insurance.Please DO NOT plug in highly power-consuming appliances, such as hair dryers or steam irons

Bring Me in When You Are Having a Long Journey or Trip Worldwide?

You are leaving your office for a business trip worldwide.

So you put your computer, iPad, camera and other electronic products in your backpack.

Many hotel rooms, especially overseas, dont provide enough accessible electrical outlets for the modern traveller.

Worry that you may lack of outlets for your devices, you grab the cube shaped power strip on your desk.

In your long journey, you take photos,make phone calls, talk about business. All your devices are running out of power.

You arrived at a hotel for a short rest, looking around, only to find there is ONE outlet on the wall,and you have a lot of products which you need to charge.

What will you do?

You used a voltage converter (the unit itself does not convert voltage) and take out the 'Pocket Power' from your bag, and your 'low battery'devices are perfectly handled. It is so lightweight and well fit for your business trip.

Pocket Power

Retratable,Small,Functional

 


Lightweight and

 

compact enough to fit in your palm, pocket

, or bag during your trip outside.

Compatible with outlet voltages worldwide (100V-250V).

Easy to carry/travel efficiently

.
The ultra-compact design packs in 4 AC outlets together with 3 USB-A ports, allowing you to charge and

 

power up to 7 devices simultaneously

.

Perfect for hotels, office, bedroom, coffee shop or dorm room, and safe to take on cruises.

 


More Details

AC: 2 Type-B 3 Prong; 2 Type-A 2 Prong 1250W (125V 10A)

3 USB Charging Ports

2.4A Each/ 3.1A 15.5 W in Total

Pocket Size - Travel Friendly

Retractable Extension Cord 4ft

Low Profile Flat Wall Plug

Space Saver - 7 in One and Small design

Travel Gifts for Men/Women




Cruise Accessories Must Haves

 


Non-Surge Protector Design For Cruise

As you may be aware that surge protectors are not allowed on cruise, this power strip

 

without surge protection

 

can be ideal

 

cruise accessories

 

for your carnival cruise ship to extend outlets from cabin.

Not for the Royal Caribbean cruise as they do not allow extension cords of any kind.

 


Soft Retratable 4ft Short Cord with Silicone Cable Tie

 


Travel charger with a

 

Soft 4 ft power cord

 

that can be wrapped around the sockets for more compact carrying.
It also comes with a cable tie

 

for easy organization

 

and helps you get rid of tangling cords and

 

cable clutter.

This desktop usb outlet is also good for some hotels, offices, bedrooms, or dorm rooms with limited electric extension outlet or USB charging ports.

 


3 USB Ports - Smart Current Detection

 


Knows & distributes exact current your smartphones/tablets are looking for.

Now you can charge your cellphone, laptop, tablet, cameras

 

WITHOUT a variety of converters

, save your space and make your desktop organized.

 





Why Choose Us - Coming Up Some More Product Details

7 Devices Plug in Sleek One

 


The portable power strip with

 

4 AC outlets and 3 USB

 

charging ports provide power and charging for

 

up to 7 devices

 

from a single wall outlet.

2

 

Type-B 3 Prong

 

Widely Spaced Outlets

 

fit for slightly big power adapters without blocking adjacent outlets. Easily plug in your PC, monitor, printer & more.
Sleek and small design reduces the footprint.

 

Doesn't take up much space and is enough for my power needs. Perfect for desktops, bedrooms, dorm rooms and guest rooms.

 


Flat Wall Plug Power Strip

 


Special flat plug design is the perfect solution

 

for tight spaces like behind furniture, cabinets, nightstands

 

or anything which is close to the wall not allowing you to use the standard outlet.
The 45 degree angled plug to keep other outlets free, is the ultimate

 

space-saving

 

power strip for your home, hotel, dorm room, or travel.

 


Travel Gifts for Men/Women

 


If your friends or families have lots of devices hanging around, then this rapid charger is a life saver!

A good choice for Business, Christmas, and Birthday Gift.

 

Now get one as an ideal surprising gift and say some secret words to her/him.
Contact Us
Do you have any question?
We will respond within 24 hours on working days from Monday to Friday.
This product is rated 4.8 of 5.0 stars.
It has received 20 reviews.